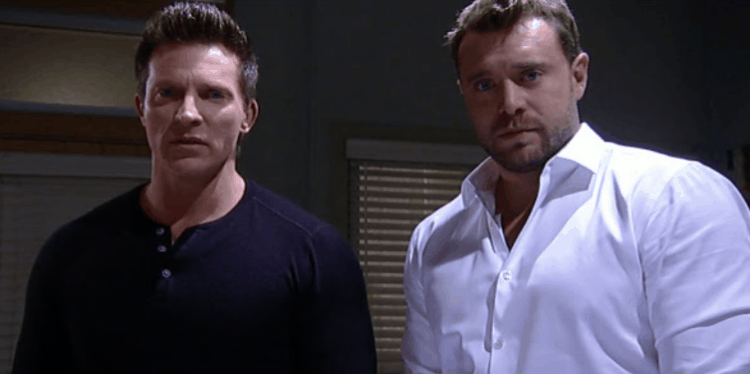 General Hospital fans know that there are always going to be new men on the show, but that doesn't mean that we can just ignore the ones who we've loved for a very long time. Some of the men who come onto the show to play roles that bring the heat and drama never really leave our hearts even when they leave the show. Some are still around, and the idea that they might leave is beyond anything fans can deal with. Who are the most popular actors on the show? We thought we might break down the most beloved of all for you.
Steve Burton
No matter what you do or how you do it, he is the most popular man on this show all the time. He is the elusive Jason, and we loved him from the start. When he was a man who played a boy who did all the things right in life, he was someone we loved. He's always been a man of character even when he's been a man who kills, hurts, and maims. He cannot hide the fact that he clearly loves hard and well, and he is always there for those who need him the most. He's been a fan favorite since day one, and that will simply never change for him or any of us.
Tyler Christopher
He's just so good at what he does. He was on Days of Our Lives for a short time in 2018/2019, and we loved him there, too. He just takes the character, makes him a monster, and runs with it. We watched him grow up as Nikolas Cassadine, and he did the job more than a job. He was the character, and he evolved with the character. He was a kind child with some problems. He was a questionable adult with more problems. He was an awful human with the most problems. There were times he was kind and loving, and there were times he was a mess. But, we always loved him and all he brought to the table in each role.
Maurice Benard
Who doesn't love the Sonny Corinthos? He is a man of means and of many different situations, and he is a man who makes us question the world when we have a chance. He is someone we love more than anything, and he is someone who makes us feel good about the world. But, he is a man who does this job so well we cannot see anyone else ever doing it. He is such a fan favorite that we are certain there is no way that they could ever replace him if they tried. His character will not work if anyone else is playing it. He is this man, and there is no way anyone else could ever do this job. He is the man who brought us this character, who raised it from the bottom and brought it to the top, and he is the man who will always ben this man. He cannot be replaced in any way.
Anthony Geary
You knew, right, that this was going to happen? You knew he was taking the spot at the end of this list as the best for last kind of situation, right? He may not be there anymore, but he is also the only man who will ever play this character. He is Luke Spencer, and he is the man behind all of the things that this show has to bring to the table. He is the man who has to deal with things as they are happening, and he is the man who has to bring us the joy we've felt for so many years. He is half of Luke and Laura, the most watched daytime wedding on television — ever. He was basically the Prince William to Genie Francis' Kate Middleton if you want to know what television royalty looked like in the 1980s. He will always hold the candle as the best of the best in any capacity, and that's why no one ever tried to recast this role when he decided it was time for him to bail — and we appreciate that.