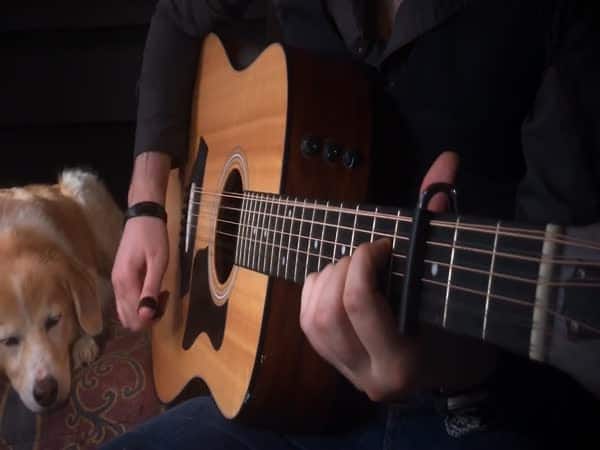 Every time I hear this theme I can't help but close my eyes and let the music take me. There's something about this tune that just invokes something deep inside that's visceral and even a bit primordial in a way, a fundamental aspect of the human heart and soul that awakens when the right music is played. The Game of Thrones theme is one that tugs at a lot of heartstrings despite the fact that it's not that long, and hearing it on an acoustic guitar only makes it better as you listen to it.
There have been many versions of the GoT opening theme at this point and all of them have been great in their own way, but hearing it so simply is something that transcends a lot of the other versions and brings it back to a very simple feeling that is sorely lacking in the show at the moment. Things might have been simple when they started but they grew and grew until they swiftly broke free of the controlling hands that sought to guide the destinies of others throughout the lands of Westeros. The opening theme says a great deal about what it is to play the Game of Thrones and what it means if one is victorious or if they fail.
The 12-string guitar is a different beast altogether from the 6-string, as it can produce a much richer, more complete tune than its 6-string counterpart. That definitely is the case with this particular theme as the GoT opening sounds a great deal more impressive than it does on a regular 6-string. The sound is a lot more complex and as a result gives a lot better idea of what is going on during the theme, which is enchanting in a way and thought-provoking in another.
If there's one thing that GoT is all about, and there are many, it's about trying to think around one's opponent in an attempt to anticipate their every move and as a result make certain that they are unable to counter your next move when it is made. The theme of the show is a ballad that tells of the struggle and the constantly reaching factions that continue to war with one another while attempting to outsmart each other only to realize that in the end they've left themselves bare for enemies they didn't even know they had. This makes a lot of sense really when you consider how Ned Stark and his children came upon the dire wolf pups after their mother had been killed by a stag.
See the theory yet? The stag killed the dire wolf, just as, in a way, the Baratheon's were nearly the end of the Starks. Robert might not have meant to cause the end of his friend and supporter, but he certainly killed Ned Stark as much as anyone by bringing him to King's Landing, and was almost the unwitting accomplice to the ruination of House Stark.
It's amazing the thoughts you can produce upon listening to a single theme in a different manner.