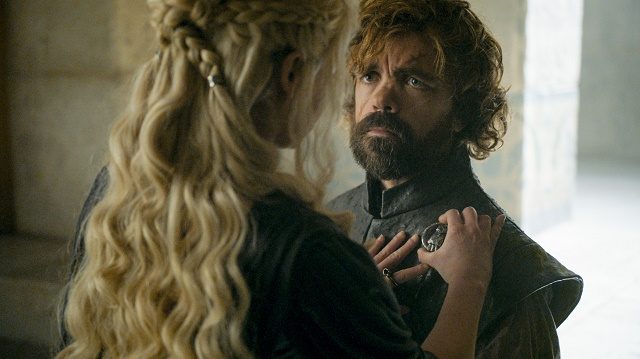 Game of Thrones Season 6 ended in spectacular fashion on Sunday, as the show delivered a finale, "The Winds of Winter," that was not only beloved by fans but universally praised by critics as well. "The Winds of Winter" featured some of the biggest moments in the series yet, as Cersei took her seat upon the Iron Throne and Daenerys, Tyrion, and their armies finally set sail for Westeros, and in addition to all of those jaw-dropping scenes, the episode also delivered Game of Thrones' highest ratings ever.
That's right, the Game of Thrones Season 6 finale broke the series' previous record for ratings, which had been set with last year's finale. The most recent episode of HBO's fantasy epic garnered nearly 9 million viewers (8.9 million, to be exact), which, as mentioned above, breaks the previous record of the 8.1 million viewers that tuned into the Season 5 finale last summer.
Additionally, "The Winds of Winter" also gave Game of Thrones its highest rating ever in the coveted 18-49 demo. The finale nabbed a 4.4 rating, beating the 4.0 rating that the drama had achieved earlier in Season 6. Overall, Game of Thrones Season 6 averaged 23.3 million viewers per week across all platforms, another improvement on the already impressive numbers it pulled in during Season 5.
Game of Thrones fans, what did you think of the Season 6 finale? Did the quality of the episode (which some are calling the show's best hour ever) deserve these incredibly high ratings? Comment and share your thoughts about "The Winds of Winter" and Season 6 as a whole below.
[Photo via HBO]