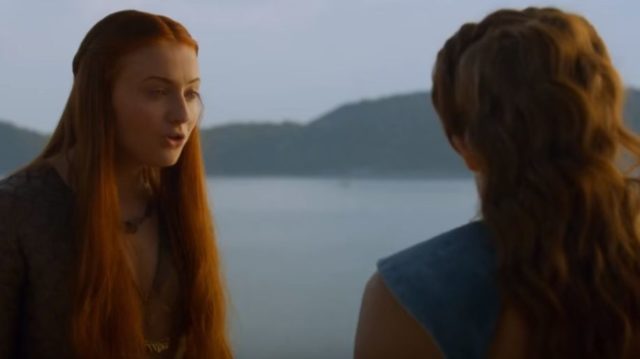 First off I have to laugh because the Game of Thrones cast "singing" this song is just hilarious. Then I have to wonder just how long it took whoever made the video to find all these perfect clips and mold them together to make a perfect harmony so that it would work this well. Quite honestly it would take someone that remembers the perfect scenes to use or it would take watching the entire seven seasons back to back in order to get everything right. That's an arduous task in and of itself. But it is funny.
The song of course is one of the more recent ones by Taylor Swift in which she's repeating the title of the song as the chorus and going on and on about she doesn't like. Watching the video you can see that Tay-Tay has definitely moved away-way, sorry had to, from the innocent little girl image that she used to rock all the time. It's time to grow up it would seem as she's traded in her casual singer/songwriter looks for a rockin' bod and a tub full of jewels that she so blissfully chomps on in sexy fashion.
Does anyone buy this new look by Swift?
Anyway, back to the video. You can see obvious influences of every season in the clip and its just stunning to see several of the characters as they appear in the earlier seasons versus what they look like now. I know a lot of diehard, dedicated fans of the book are still upset about the fact that some characters don't really look like they're supposed to, but as it goes right now GoT has become one of the hottest shows ever created based partially upon the looks of its cast. If they were suddenly forced to adhere to the book in each and every way possible then the look of the show as a whole would change far too drastically for most people to stomach.
It's interesting as well that some parts of the song use the same clip over and over, as though the creator of the clip couldn't find anything else that could really fit in that spot, or just happened to like that one mini-clip. I get it, it works really and to be honest finding this many clips throughout the seven seasons is impressive enough. There's been more than one song like created in GoT style and they've been pretty cool to listen to since it takes a lot of work and patience no doubt to find just the perfect track that could possibly fit.
You can bet that when season eight hits that we're going to be given just as many mashups and songs like this once again. Seeing as how season eight is supposed to top even season seven it stands to reason the mashups will be just as amusing if not more so. By then we'll probably have even more songs to pick from and an equally impressive display to enjoy.
Save