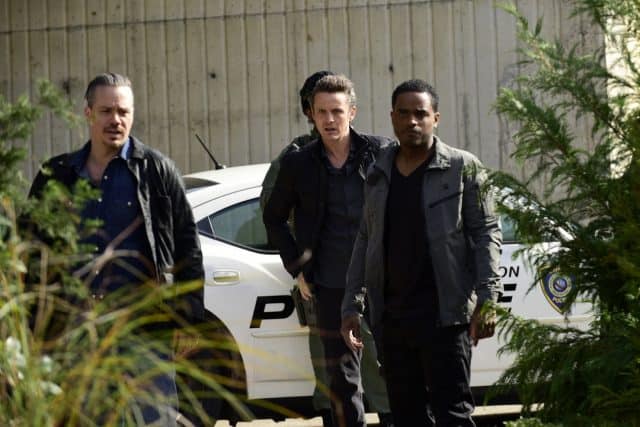 Game of Silence ended its series run this week. The story of childhood friends Jackson, Gil, and Shawn seeking justice for the horrific crimes committed against them during their time in Quitman Juvenile Penetentiary finally drew to a close. Did the tormented men get justice against their powerful adversary? Perhaps, but every quest for vengeance has a price to pay, and the Quitman boys had to pay in full.
The episode started out more joyous than anything else in the series. After finding their former friend's body on land that former Warden Carroll owns, Gil, Jackson, Shawn, and Jessie feel extremely celebratory. Jackson reunites with Marina, and she in turn tells him they are going to be parents. It's a sweet reunion, especially since Marina has finally been let into the loop after so long on the outside. If only things were that simple.
Carroll tries to blame Petey's death on two of his former guards, both of whom just happen to be dead. Carroll goes into a complete panic with Diana, though she stays calm as a cucumber. With no hard evidence connecting to Carroll besides the land deed, Shawn decides they need another angle. Chances are that Carroll didn't do his own dirty work, and Shawn was right about that. Terry and his brother Dennis were brought into Carroll's fold at Quitman to dispose of Petey. Dennis is torn apart at the thought of turning in his brother, but can he continue to live with himself if he doesn't?
Apparently Dennis can because he runs instead of doing the right thing. Jackson goes straight to Terry with the supposed intention of asking for his help, but instead has arrived with the FBI and a wire. After a firestorm of bullets Terry gets away. He blackmails Liz into helping him escape by threatening her incarcerated brother. Luckily Jackson is one step ahead, putting Liz's brother in protective custody.
Annie kicks Shawn's butt all the way to Nurse Amy's funeral. It's a good thing she did because Amy had a message for Shawn from beyond the grave. Amy compiled a list of every single boy that went mysteriously missing from Quitman, and Shawn turns that list over to the FBI.
Jessie goes back to work on Carroll's campaign to keep up the pretense that nothing has changed. It's extremely risky especially since Carroll figures out who Jessie is. Jessie and Gil get their vengeance on Carroll in a very public, humiliating way in front of all of his campaign donors. It's not Carroll in jail or with a bullet in his head, but it will do.
When Marina goes missing Jackson thinks that Terry has her, but he's completely wrong. Diana, with a her new ally Dennis by her side, boasts about having taken care of the loose ends in her life. Jackson, Gil, Shawn, and Jessie feel some peace at finally gotten justice, but Marina pays the ultimate price, as Jackson finds her lifeless body in the trunk of his car.
That's that, as they say. Game of Silence ended its run by taking down the season's main antagonists and creating even more menacing new ones. It would have been interesting to see the friends try to recover from this, as they fought so hard for justice only to be shattered all over again.
Would you have liked to see Game of Silence continue, or did it run out its course?
Tell us what's wrong with this post? How could we improve it? :)
Let us improve this post!