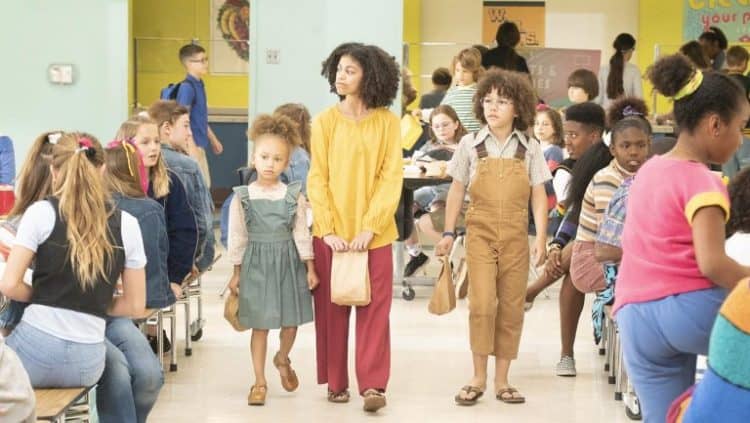 "Black-ish" is one show that has been so successful that it has resulted in a spinoff and now, the producers want to take us back to when Rainbow was growing up. "Mixed-ish" has just premiered and it is not clear how many more episodes we can expect in its first season. However, there is so much more we know about the series, and we share the details below.
1. Its advantage over "Grown-ish."
As Hollywood Reporter reviews, "Mixed-ish" has one particular advantage over "Grown-ish." All the faces we came to know on "Grown-ish" were new probably because the idea was that Zoey was now in college and had to meet new people. Although there are few appearances by her mother and father, "Grown-ish" appears entirely unrelated to "Black-ish." Anyone who has no idea that "Black-ish" exists will watch "Grown-ish" still clueless. However, "Mixed-ish," being a prequel to "Black-ish" already has this established character telling us how far she has come despite a challenging childhood. The best thing is that there are no surprise family members. We already knew Rainbow has siblings, so we are not surprised to see them here.
2. It is based on Dr. Rania Barris's childhood
Just like "Blacki-sh" is based on the marriage between Kenya and Dr. Rania Barris, "Mixed-ish" has been inspired by Dr. Rania's childhood. However, not all of it seems to fit Dr. Rania's family because as she told Black Enterprise, she is the middle of five children. On "Mixed-ish," Rainbow only appears to have a younger brother and sister; there is no mention of any other siblings.
3. Its first episode would have been aired on "Black-ish."
If you have watched the first episode of "Mixed-ish" which aired on September 24, 2019, you must have caught the title which is "Becoming Bow." The episode was supposed to be on "Black-ish,' but once "Mixed-ish" had its first seasoned ordered, it did not air. It is, therefore, no wonder that the pilot episode has Ander Holms as Paul Jackson while in the rest, Mark-Paul Gosselaar acts the part.
4. Its poor audience reception
So far, the reviews of this series are not looking good; if the producers are thinking of a second season, they better put that on hold. One thing that the ever-attentive eyes of the audience notice is that in "Black-ish," Bow's mother is much lighter than in "Mixed-ish." It results in someone asking if she bleached her skin. The fact that Anders Holm was also recast could have been to the show's disadvantage. Many viewers were hoping to watch him, and learning of his replacement disappointed them. Maybe ABC is limiting Kenya Barris from giving us the real black and mixed-race experience, but now that he is out, the series could have a future.
5. It is the last of Kenya Barris work for ABC Studios
ABC Studios has been on the losing end as its primary content creators have left it for better greener pastures in Netflix. Shonda Rhimes already negotiated her exit from a contract with the studio and landed herself a $300 million deal with Netflix. Kenya Barris has followed suit, and it is mostly because ABC and Kenya did not see eye to eye on his work. One incident has to be the scrapping of an entire episode because ABC thought it did not sit right with them politically. So you will have to enjoy "Mixed-ish" knowing that it is the last of his work with ABC Studios. However, you can expect more content on Netflix since he signed an eight-figure contract with them.
6. It aims to spark a conversation on what was relevant then and still impacts the society today
The racial discrimination has been experienced not just in the United States but the world at large. In South Africa, for example, the apartheid rule was all about the whites and blacks and lives were lost in the process. In Rainbow's childhood, there was already a division between blacks and whites. However, Rainbow is bi-racial, so she does not fit anywhere, leading to her being discriminated by both blacks and whites. That may seem like an 80s problem, but even today, minorities are still fighting to be recognized.
7. Its relevance to Tracee Ellis Ross
Tracee has been on "Black-ish" as the adult Bow and in "Mixed-ish," she will be the narrator something we are used to with Zoey on Grown-ish. However, for Tracee, it is more than just playing the part, because she is reliving her childhood. Tracee comes from a mixed marriage between Diana Ross and Robert Ellis Silverstein. Even if you paid Tracee, she would never go back to being a teenager. Still, the experience enabled her to look at both black and white cultures from the other's perspective.
8. ABC wanted to test the fans' response
Television production is also about supply and demand. If the audience is not liking what the network is presenting, then it makes no sense to keep airing it. ABC Studios, therefore, wanted to see if the series they were about to introduce would have high ratings. The episode itself was the one that served as the pilot. Therefore, they still went ahead to make a show without testing the fan's response. The trailer that was released in May 2019 could have served the purpose since fans immediately reacted in a not-so-kind manner. Its approval rating is between 68-71 %, which pales in comparison with Black-ish pilot episode that ranked number 1 in its timeslot.
9. Its costume designer
The 1980s were years of a strong fashion sense that has been creeping its way back to the current times through peplums, for instance. Pulling off the look, therefore, needed expert hands that could only be entrusted to Ceci, the series' costume designer. Ceci regards herself as one who is after authenticity. Her previous works in "A Different World" and "Sister, Sister" as well as other shows make her a professional at presenting the cast in clothes that depict the earlier times. As she told InStyle, Ceci wanted to use colors that reflect the 80s. She, therefore, incorporated lots of silk, handwork, geometric shapes, and color blocking.
10. Mariah Carey wants to guest star
The unmistakable voice of Mariah Carey gives the series a perfect start through a theme song that says it all. In the theme song's video, not only is the cast present but Mariah also enlisted the help of her twins, Moroccan and Monroe. Still, Mariah is not satisfied that only her voice gets to feature in "Mixed-ish"; she wants to guest star too. Karin Gist confirmed Mariah's interest in making an appearance and said she hoped that it all worked out. Since it was Kenya Barris to have Mariah sing the theme song, he could also make guest-starring happen.
Tell us what's wrong with this post? How could we improve it? :)
Let us improve this post!