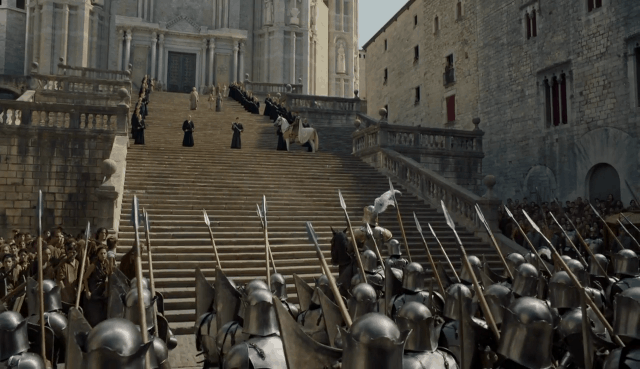 Hold The Door! Hodor! Still gives me the shivers. Definitely not forgetting that anytime soon. But now we must look to the future of Game of Thrones. Poor old Hodor and Summer gave their lives to save Brandon The Jackass. It's time to see what he does with it. Of course, Brandon's namesakes have done great stuff. Brandon The Builder built The Wall and Winterfell while Brandon The Shipwright…built ships…and his son burned ships. OK, let's hope Bran doesn't take after these Brandons. But in all honesty, they're not looking to be too good here. Look, Bran's still out in vision land. Good luck trying to save this idiot Meera. Why Meera is saying sorry, I have no idea. She couldn't protect him? Well, that's his fault again. Now, here's what I think: Coldhands to the rescue. That's the only way I see them getting out of this situation. Remember these are ordinary wights while Coldhands is an Other so here's hoping for some walker-on-walker action.
Meanwhile, it looks like Sam and Gilly are being hosted by Lord Randyll Tarly, Sam's father. Of course, his father's a full-time jerk and part-time crappy father. You know I always felt that Game of Thrones lacked some daddy issues(*cough Tyrion *cough Ramsay). On the other hand this is a serious deviation from the books. According to them, she goes to Oldtown with Sam where she is being planned to be shipped off to Horn Hill. But here, Sam actually goes with her to Horn Hill first. But on the plus side, it'll be cool to see Sam interact with his father. "I killed a white walker, daddy." "The you did."
Now here's the highlight of the episode: Margaery's walk of shame is imminent and the conjoined Houses Tyrell and Lannister aren't having that. If it comes down to blood though, it'll be a massacre. How The Faith Militant intend to defend themselves is beyond me. They have neither the numbers, nor the discipline nor the weaponry. Brutal one-sided butchery Lannister style coming right up. That's just classic Game of Thrones isn't it?
Meanwhile, Dany continues her journey to Mereen and Daario continues to attempt to flatter her. "I take what is mine." Except nothing here is yours. You took it from the masters. I mean come on. She keeps bleating about her claim but there's Aegon who has a better claim, not to mention Jon Targaryen(stop telling me he's not Rhaegar's son). She has no claim over Westeros or Essos so what she should be saying is: "I take what is yours." That would be more fitting.
The episode is titled "Blood of My Blood" which means that the Dothraki will feature heavily here. The synopsis reads:
An old foe comes back into the picture. Gilly (Hannah Murray) meets Sam's (John Bradley) family. Arya (Maisie Williams) faces a difficult choice. Jaime (Nikolaj Coster-Waldau) faces off against the High Sparrow (Jonathan Pryce).
Some things that are missing: Arya, Euron, Yara, Theon, Jon, Sansa and Tyrion. I'm sure some of them will feature here so let's talk about them too. Arya might make her kill for The Kindly Man this time or maybe wait for next episode. Euron's sailing…and sailing. Yara and Theon are running. So, no Greyjoys this time. As for Sansa and Jon, they might try rallying some houses. As for Tyrion, I'm really hoping the show begins the siege of Mereen here. That would be something to make Tyrion's storyline more interesting.
By the way, where the hell is Drogon? He's been conspicuously absent this season. Please don't tell me he's dead because if he is then the writers are probably attempting to save CGI budget. That's the only explanation for all the deaths of the direwolves and the dragons. And in case you're wondering, I have no idea who the 'old foe' is in the synopsis.
Game of Thrones airs on HBO at 9/8c.
Save