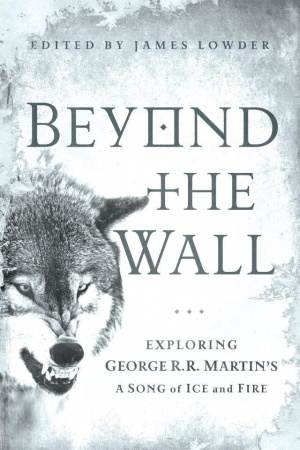 If you're looking for an excuse to return to the world of Game of Thrones, there's a new book due out that might just give you a good reason to re-immerse yourself in Westeros. Beyond the Wall: Exploring George R.R. Martin's A Song of Ice and Fire is a compilation of essays, due out June 19, that explores the source material upon which Game of Thrones is based.
You should be able to tell from the title that this book isn't for those who only watch the show: it explores the story all the way through last year's fifth book, A Dance with Dragons. (If you haven't read A Song of Ice and Fire but love Game of Thrones, read the books. They'll only increase your enjoyment of the show.) Beyond the Wall explores the world of Westeros in fourteen essays, each focusing on a different aspect of the series. The results are almost always interesting, and occasionally, revelatory.
I have two favorite entries from Beyond the Wall. Myke Cole's essay "Art Imitates War: Post-Traumatic Stress Disorder in A Song of Ice and Fire" looks at the horrors experienced by Arya Stark and Theon Greyjoy and describes how their actions after these traumas are accurate portrayals of different types of PTSD. My other favorite essay is "Petyr Baelish and the Mask of Sanity" by Matt Staggs, which points out how Petyr "Littlefinger" Baelish is actually a textbook psychopath.
Those essays don't change our perceptions of the characters or the events of the stories. We know that Littlefinger's a psychopath, and we know that Arya and Theon are struggling to cope with trauma. What's great about these essays is that they present what we know about these characters in a modern, psychological light. They're also well-written and compelling to read.
There are other essays that deal with broader themes; feminism, romanticism, magic, outcasts, violence. These essays are all great stuff, and for readers who like dissecting the events that occurred before Robert became king, there is an abundance of meat to sink your teeth into.
A few essays are written from an outside point of view. Daniel Abraham writes in "Same Song in a Different Key" about the challenges of adapting the first book into a graphic novel, describing some of the problems that you can be sure the producers of Game of Thrones had. Gary Westfahl writes about the Dunk and Egg prequel stories. John Jos. Miller writes the least interesting piece in the book, "Collecting Ice and Fire in the Age of Nook and Kindle," an essay intended only for die-hard book collectors. The book closes out with Ned Vizzini's essay "Beyond the Ghetto," which contextualizes A Song of Ice and Fire in the realm of the fantasy genre as a whole.
Beyond the Wall is a great read for anyone who loves the books upon which Game of Thrones is based. And, let me say once again, those who haven't read the books, should. And after that, they should read Beyond the Wall.
Beyond the Wall hits shelves on June 19. You can order it over at Amazon.