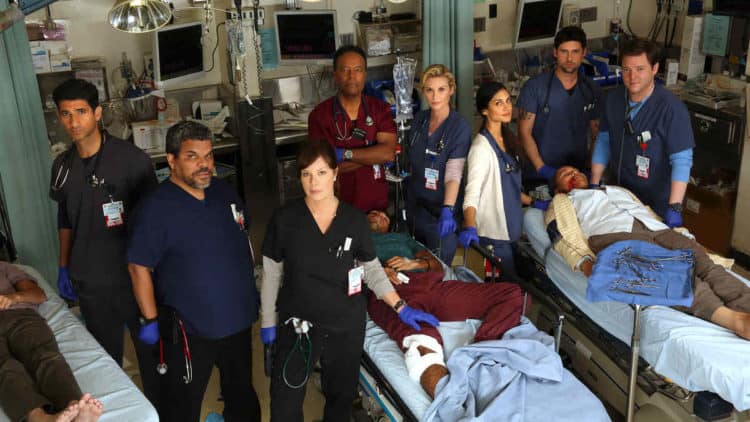 In the history of shows that feature ER's Code Black is one among many that stood out since it featured a wealth of stars and was, for three seasons, a fairly well-liked series that went on to become something worthy of notice. The premise was pretty simple, a bunch of doctors, nurses, and interns were constantly trying to keep up with the influx of patients coming into their part of the hospital and could just barely do it thanks to the fact that they were under-staffed and overworked. In real life this kind of thing does happen on occasion and it becomes a nightmare for the staff as they try to take care of as many people as they possibly can all while trying to maintain their sanity and still have a life at the end of their shift. The actors that were featured in this show made a big difference when it came to the act of actually believing the story.
Some of the cast might still have bright futures after the show ended.
Harry Ford – Dr. Angus Leighton
Considering that Harry's resume isn't all that extensive as of yet he might have to work his way back up to a starring or even supporting role after this since so far it doesn't seem like he's got a lot of prospects that are being discussed just yet. But with his education and the fact that he's already been on a couple of shows so far it could be that he'll manage to push forward and find another place to call home for a while.
Boris Kodjoe – Dr. Will Campbell
Boris is going to land on his feet without a doubt since he's got the merit and acting career to back him up. In fact he's already part of the cast of Nicole and O.J., a movie that is slated to be coming out in 2019. If you get the feeling that you've seen him somewhere before the odds are that you have since he's been in a lot of different shows and movies at this point and has been a welcome addition to all of them for the most part. So yeah, he'll be fine.
Luis Guzman – Jesse Salander
It would be more of a surprise if Luis Guzman WASN'T going to move forward after the show since he's been in so many different shows and movies either as a supporting actor or as an extra that brought a little flavor to the production. Seriously, this guy has acted with some of the biggest names in Hollywood and has been a standout almost everywhere he's been. He's what you might call the 'working-man' actor in that he's been in so many different projects that it's more of a job to him than it is to anyone else. But thanks to that he's about as well-known as it gets without being a headliner all the time.
Rob Lowe – Dr. Ethan Willis
A lot of people are lamenting that Rob Lowe is getting older and in some ways losing his looks and his fame, but the latter isn't really true. Yes he's getting older but he's definitely grown in maturity and in popularity throughout the years since just seeing him at this point is something to get excited about. His career should be fine since like a fine wine he's aged so well that projects want to snap him up without question. One of his most recent roles came in Super Troopers 2, which was pretty campy and kind of far out of left field, but it was still pretty funny and made him into a rather comical villain.
Ben Hollingsworth – Mario Savetti
If he doesn't go to films or to TV exclusively then he'll probably be seen bouncing back and forth between the two as this is the way his career has gone so far and it's seemed to work. His resume isn't all that extensive but it does show that he's done a few things and is able to deliver, so he should be able to get back out and be successful following the termination of the show. He does have one project that's currently in production and has yet to be given a release date.
Marcia Gay Harden – Dr. Leanne Rorish
This woman will be just fine since like a couple of cast members on here she's got the acting talent that can carry her through and she's so good that she's sought out for certain roles that are just easy for her accomplish. She can be undeniably cruel as a character or she can be your best friend and confidante, and thanks to that range she'll likely always have a spot somewhere in Hollywood.
Most if not all of the cast from Code Black should land on their feet just fine, and in fact a lot of them it seems have projects lined up as of now.