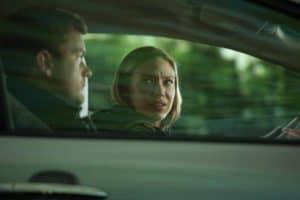 Fringe returned tonight from an interminable hiatus with 'Back To Where You've Never Been'. It quickly becomes apparent why this episode was supposed to be the winter finale (before it got delayed by baseball): the episode is jam packed with mythology, character development, the re-introduction of a familiar enemy, and an ominous Observer visit. One of my favourite aspects of Fringe is when new developments cause everything to begin to coalesce into a clear image of where the story is going, and tonight's episode had some fascinating revelations.
Fringe's winter finale 'Wallflower'left us with a cliffhanger of sorts, with the revelation that Nina Sharp, Olivia's adoptive mother, is actually the one responsible for her escalating migraines. My guess is that Nina is dosing her with Cortexiphan, presumably in an attempt to activate Olivia's powers. As horrifying as the breach of trust is — it also makes me question this new Nina — I do hope that something comes of it: the topic of the Cortexiphan kids and their powers has always intrigued me. It's clear that Olivia really has no idea what she's capable of, and I can't imagine that it would be something the writers would ignore. I assume that Nina's motivation is much the same as Walter and Belly's was originally, that she is 'preparing'Olivia for the coming threats. I doubt Olivia will take it much better than she did in the original timeline, however, especially considering that the person she trusts the most is the one dosing her.
Speaking of breaking trust, I was rather disappointed in Olivia for deceiving Peter and instructing Lincoln to use the trip to the Other Side to steal information on Walternate. Not that I can really blame her, but it just serves to highlight again how different this new timeline is. I miss the dynamic between Olivia and Peter — well, between all of the characters, really — and I'm torn between what I want this new reality to end up being. That is, whether 'our'characters are in the original universe somewhere frantically searching for Peter who can indeed get back there somehow, versus this being 'our'reality rewritten. There seems to be support for both, and I can't get past the fact both Walter and Olivia clearly have some sort of connection with Peter, which wouldn't make sense if this were an 'alternate'universe of sorts. As we saw in 'One Night in October', there are people who leave a mark on us, whether we're conscious of it or not. If it truly is the original universe rewritten, I'd love to see Olivia, at the very least, start to remember what things were like before the Observers erased Peter; perhaps the doses of whatever Nina has been giving her could facilitate such a shift. I think it'd be fascinating to see Olivia trying to reconcile memories of the original reality with the relationships and experiences she's had in this new universe.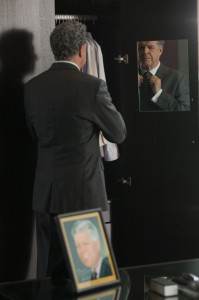 One of my absolute favorite moments in tonight's episode was the scene between Peter and Walternate. In some odd way, Walternate actually reminded me a bit of Walter as he was at the end of season three, at least in terms of his relationship with Peter. I've been missing that connection between the father and son that was such a cornerstone for the show. I love the decision to alter Walternate a bit, but I do wonder what precipitated the changes. I assume that Peter's death as a boy would change the Other Side far less than Our Side, because he disappeared when he was just a boy anyways.
If I had to hazard a guess, it would be that David Robert Jones is responsible for some of the changes we see in Walternate. Near as I can tell, since Peter wasn't around to prevent Jones from crossing over at the end of season 1, he made it to the Other Side as he had originally intended. Evidently, he's been up to no good ever since, given the humanoid shapeshifters we've been seeing. If Walter had been suspecting a new threat for quite some time, it could have diverted some of his ire away from Our Side: he'd be too busy fighting on another front at home. I also wonder if some of Walternate's fury in the original timeline stemmed from jealousy or bitterness. Not only did Walter kidnap Walternate's son and trigger a cascade of detrimental effects to his universe, but Peter himself kept choosing to side with his own father's enemies. I can't imagine that would be easy for anyone to accept.
As always, I'm intrigued as hell about where the story will go from here. I love the idea that the two sides will have to work even more closely together in order to combat a common threat. Not to mention the ominous warning from September, our friendly neighbourhood Observer, to Olivia regarding her own death. And how does a man (I use the term loosely here) who can catch bullets end up getting shot, anyways? September has always seemed more human than the other Observers, and I assume it's due to his continuing involvement with the Bishops and Olivia — he has let himself become invested in them, and for someone who is only supposed to observe, he does an awful lot of interfering.
Between the reappearance of David Robert Jones, the new threat to both universes, Lincoln and Peter remaining Over There, Walternate's new status as 'not a bad guy', Peter's deepening involvement in this new timeline, threats to Olivia's life, and Walter's continued instability and denial of Peter, I have no doubts that 'Back to Where You've Never Been'is only the beginning of what promises to be a fantastic back half of season 4. A