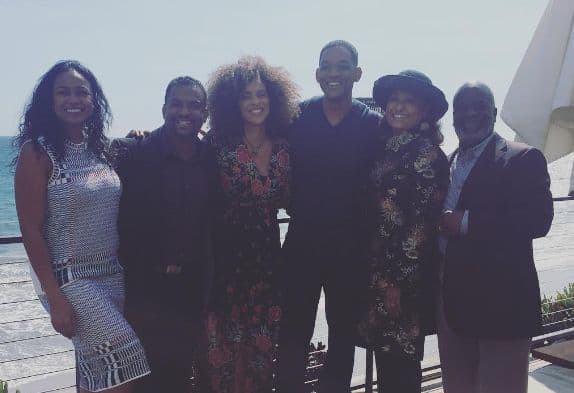 The Fresh Prince of Bel-Air ended its run in 1996 but over 20 years later it still gets as much internet buzz as some current shows on television. Maybe it's the whole Will Smith thing but fans have been clamoring for a reunion and well as show revival ever since the show ended. Unfortunately after the passing of James Avery, all talks of the show ever coming back to television were put to rest. Alfonso Ribeiro said at the time,
"Since the passing of my favorite dad in the world, ever on TV, James Avery passed, the chances of a Fresh Prince coming back together will not happen," he said. "I don't think we feel as a cast that we would do even our fans justice. We all felt like he was the centerpiece or the nucleus of that show. Without him, it just doesn't work… we're not looking for that to happen. And that's OK."
But fans can rejoice in seeing this photo of a small reunion that took place recently. Will Smith reunited with his "Fresh Prince of Bel Air" cast mates. Alfonso Ribeiro, who played Smith's Tom Jones-loving cousin Carlton on the 1990s sitcom, posted a picture on Instagram on Monday of the cast getting together. Joined by Smith and Ribeiro were Tatyana Ali, Karyn Parsons, Daphne Reid and Joseph Marcell.
Ribeiro writes in the caption that it's "always amazing to spend an afternoon with my Fresh Prince family." He says he wishes that Avery were there "to make this complete."
Save