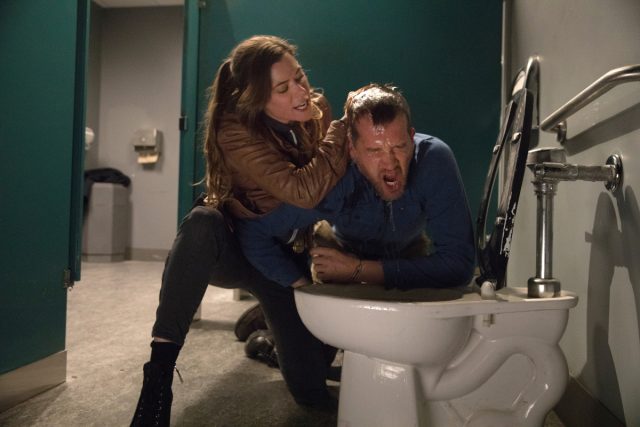 Building a show on a season-long murder case can be difficult, as we've seen with series like The Killing or even in something like FOX's adaptation of the British series Broadchurch, which the network titled Gracepoint, and that's in large part due to the inherent problem of red herrings, which these shows need to have in order to last 10 or 13 episodes. For the most part, Frequency has avoided the pitfall of having too many red herring suspects; even though Raimy initially believed that Thomas Goff was the Nightingale Killer during the first three episodes of this season, her suspicion of him quickly faded, and we didn't get another prime candidate until Deacon Joe came around. Over the past few episodes, we've been led to believe that Deacon Joe is the Nightingale Killer and that he carried out the murders of these women by himself for over 20 years; however, if you are like me and know how TV shows work and began to see how repetitive the Deacon Joe storyline was getting, you had to know that Frequency was going to throw a major twist at its viewers, which it does in "Harmonic" with the reveal that Robby, Joe's son, is actually the real Nightingale Killer.
To be totally honest, I'm not quite sure how to feel about this reveal. As I said above, this development isn't the most shocking surprise in the world; midway through the episode, especially after Robby sprints away from Frank once he sees his police badge, it becomes quite clear that he's more involved with the Nightingale killings than we've been led to believe. Furthermore, this new information about Robby fits perfectly with what we've been presented with so far, as we've seen Deacon Joe not only terrorize his stepson but also provide him with what he believes is "fatherly advice," detailing the reasons why these women don't need to be "killed" but why they need to be "saved." This reveal makes complete sense.
And yet, it still feels like a major cheat, and that's because Frequency has spent several weeks building up Deacon Joe as this menacing villain, this sick and twisted "believer" that was committed to his cause. The show has given us plenty of evidence to support that theory, even having Joe seemingly murder Meghan in cold-blood in the timeline in which Raimy shoots and kills him (which has, obviously, since been erased). To deliver a game-changing twist like this in the second-to-last episode isn't clever or inventive; honestly, it just feels lazy, as if the writers felt like they needed to shake things up one last time before the finale so that people would tune in. But in doing that, the Frequency creative team has robbed the Nightingale Killer of any real personality; Deacon Joe isn't the most interesting character on the show, but at least we had become invested in his story and in Raimy and Frank's revenge against him for what he did to Julie. With only one episode left this season, there's no time to add any depth or intrigue to Robby's character, who we only officially meet this week; instead, it becomes just a stand-in serial killer, a face and a name that Raimy and Frank have to take down because the plot demands it.
Even though I am clearly disappointed with the twist in"Harmonic," I still love a lot scenes in this episode, even though they don't all come together to make a great whole. For example, both Raimy and Frank's interrogation scenes with Deacon Joe are fantastic; the tension of the scenes and the sheer anger displayed by our two main characters, particularly Raimy who continuously slams Joe's head into the toilet, are a pleasure to watch. Furthermore, "Harmonic" finally gives us the Frank and Satch partnership that's been missing for much of this season; for the first time in a longtime, the two of them actually feel like friends, and even though their investigating into Deacon Joe doesn't lead to anything major (since Joe turns himself in to the cops in 1996), it's still refreshing to watch.
However, the best scene from "Harmonic" comes near the end of the episode, and it's pretty obvious which scene I'm talking about: Raimy and Julie's reunion. This entire first season of Frequency has been about Raimy's mission to save her mom, and the moment in which she finally gets to see her and hug her again is played beautifully by Peyton List and is just as damn satisfying as I had hoped it would be. Wonderful work there by the Frequency team; as I've said before, the powerful emotional moments are when this show is at its best.
With only one episode remaining in Frequency's first season (and quite possibly the series as a whole), I'm not so interested in seeing how Robby is stopped or if Stan tries to take down Frank. All I can hope for from next week's finale is that the emotional payoff is as fulfilling as I want it to be, and that the series, after a couple of off weeks, is able to harken back to what made Frequency so special during its initial episodes: strong, emotional storytelling through a fun and unique time-travel lens. If the show is able to reach the emotional heights of its earlier hours in next week's finale, I'm sure I'll be satisfied, no matter how the story of the Nightingale Killer ends.
What did everyone else think about this week's episode of Frequency? Comment below and let me know.
[Photo credit: Jack Rowand/The CW]
Frequency Season 1 Episode 12 Review: "Harmonic"
Summary
A major secret about the Nightingale Killer is revealed in a disappointing episode of Frequency.