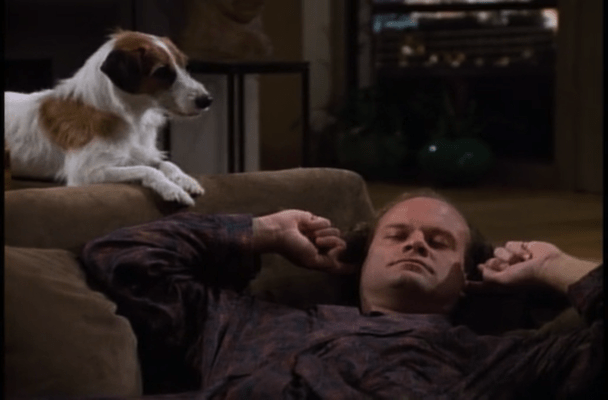 After a salvo of ambitious opening episodes, Frasier spends much of its mid-season finding its footing in the simpler realms of sitcom stories. Moving away from the touching, unnaturally heavy story of Frasier and Marty's reconciliation may have stunted the show's emotional growth a bit, but these middle (and occasionally, middling) episodes are important in Frasier's growth from a forgettable spin-off to a show that won a record 37 Emmys during its 11-season run. "Death Becomes Him," despite its innocuous beginnings, is a perfect example of why Frasier was able to last as long as it did, early evidence of how its mix of multi-camera comedy and touches of emotional pathos were able to keep audiences engaged for so many seasons and allowed for the Emmy-winning performances at the show's core.
From beginning to end, "Death Becomes Him" is a very simple episode; when a doctor Frasier suggests his father sees dies, Frasier begins to contemplate his own mortality. "Death," however, doesn't approach this with the specificity of previous episodes relating to personal stories and conflicts in the Crane family; it's simplified to the point Marty screams out the episode's moral to Frasier and the audience halfway through. This is an episode about enjoying the simple things in life, through and through, one of the few topics Frasier never seemed ready to handle, at least in a dramatic sense, instead mining those scenes for comedy across the seasons rather than poignant, deeply personal moments. Here, it leads to Frasier having a mild panic about death, something easily cleared up by a talk with his father and a visit to the doctor's shiva.
The shiva itself is really the highlight of the episode, showing Frasier's fine tuned skills at creating a world out of nothing, and reveling in Frasier's inability to react to it. We get a number of rich details about the doctor's life from his widow (mostly about his healthy lifestyle), some hilariously subtle asides about the Jewish faith's fascination with death – and of course, the inexplicably '90s moment when a random woman walks up to Frasier and gives him her number, if only because she didn't want to miss out on the opportunity to breathe the same air as our protagonist. Within that framework, Frasier lets Kelsey Grammer's exaggerated performance go nuts, peeking under covered mirrors ("I thought there was going to be an unveiling!") and uncomfortably contemplating the realization that death can arrive at our door step at any time.
There are no big answers or revelations for "Death Becomes Him" to offer, and in a way, it almost makes the episode richer. The sentiment it does offer is quite simplistic – live life, rather than react to it – but the casual way it's worked into the final scenes of the half hour almost enriches the point the episode tries to make, a sly way to create that ideological bridge between audience and writer, and between viewer and character. We've all had those paralyzing moments of smallness where we feel everything we do is inevitably going to have no meaning; that's the contradiction of life, a frightening nuance many of us are unwilling to accept, finding solace from the unknown in the texts of religious books, allegiance to the randomness of the universe, or wherever else we may find our existential peace. The point of "Death Becomes Him" is not how we arrive to that moment, but more how we exit it: once we've let go of control, realized that we have absolutely no dominion over our own fate, that we can go on and actually live.
It's a simple revelation, and one we don't need to pat ourselves on the back for. As Frasier makes clear, sometimes allowing ourselves to fall to the unseen whims of the universe can lead us to new and exciting places, like the woman Frasier meets at the end of the episode. That moment, as amusing as it may be, is really the cathartic touch the episode needs, a hopeful note that beautifully balances out the nihilistic undertones of the unseen doctor's death. It doesn't necessarily make for a memorable episode of Frasier – but in a way, its muted simplicity is its greatest asset, an episode that handles a very Big Question with an extremely small, inconsequential answer. That seeming lack of resolution is really the sound of Frasier unlocking the key to its own success, finding balance between the light and heavy in what will be remembered as a "throwaway" episode, but one with great implications for the show's future.
Other thoughts/observations:
– "Death Becomes Him" goes a little light on Roz Doyle; how could she not be more featured in this particular episode as a comedic counterpart to Frasier??!!
– Marty doesn't like his doctor because he keeps tongue depressors in a model colon on his desk. Admittedly, that's pretty gross.
– Niles' leering at Daphne does get a wee bit creepy in this episode.
– Frasier, calling out Niles: "Pump iron?… Niles, you don't even pump your own gas."
– Frasier, to Marty (who is reading a Cosmopolitan in the doctor's office): "This is not an oral exam." Marty: "You should see the second question."
– To relax himself as a child, Frasier would recite Puccini's operas.
– Niles needs to calm down on the seminars he's holding: "I need to make it to my abandonment class… I've already been a no-show twice this week."
– Frasier thinks Dr. Newman will be good for his father, because of the art he hangs in his office and the places he vacations. #snobalert
[Photo via NBC]