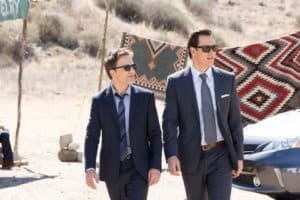 After watching the latest episode of Franklin & Bash entitled "Out of the Blue," I decided I would like a meteorite to hit my house. You may be asking yourself why anyone would ever wish that upon themselves. It is because you can sell the meteorite for $1,000 per gram. The meteorite featured in this episode hit the apartment of a man named Denny. So far, this has been the most exciting thing that has ever happened in his life. And to top things off, this meteorite is valued at over $2 million.
Franklin (Breckin Meyer) and Bash (Mark-Paul Gosselaar) run to Denny's aid when they find out Denny's landlord wants the meteorite for himself. The duo goes in search of Denny at a local bowling alley and tries to woo him. He agrees to become their client after Franklin undercuts the competition. He only wants 10% of the meteor's value, while other law firms were asking for 30%.
Franklin and Bash win that case early on, but run into another problem when the HSI confiscates the meteor from Denny. Dr. Stefan Hall, a space researcher for the firm JXP, asserts that the space rock is hazardous. In order to get the rock back, Rachel (Heather Locklear) suggests the guys use Denny's Native American heritage to their advantage. A meteor is sacred to the tribe that Denny belongs to and therefore cannot be taken away. The leader of the tribe declares that Denny's father is part of that meteor.
F and B proceed to cause a scene in the courtroom hallway to see if Dr. Hall will cut a deal with them. They ask if he will turn over just a sliver of the meteorite. He agrees but our favorite lawyers have a trick up their sleeve. Once back in the courtroom, they put Dr. Hall on the stand. Dr. Hall reiterates that keeping the meteorite would help future generations from meteorite hits. The guys ask him if results for the path of the meteor could change if even a small chunk was removed. To prove their point, F and B use a pitching machine and insert two baseballs. The first is a regular baseball and shoots in the intended path. The second baseball has a sliver cut out of it. It flies off target when put into the machine. This wild antic proves that Dr. Hall was only concerned with money and not saving future generations from in-coming meteors.
If you have read my previous reviews, you may have noticed that I find the Damien (Reed Diamond) storylines dull. I want to stress that I think Diamond is a great actor and worthy of a meatier story. This episode gave Reed that chance and he was able to deliver a brillant performance.
Damien is on trial for murdering Judge Dimsdale during a golf outing. Infeld (Malcolm McDowell) is representing his nephew and offers him a plea of 3 years anger management classes and community service. Damien maintains his innocence and declines the plea.
In order to win the case, F and B take over as council for Infeld claiming conflict of interest. The guys order Infeld to take the stand and ask him about his behavior towards Damien. This includes not letting him attend a relative's funeral, hiring F and B to make his life a nightmare, and hiring Rachel to show Damien he would never run the firm. Infeld was "framing" Damien so he would not vacate his lawyer position to become a judge. The charges are dropped after F and B tell the prosecutor they have a lot more stories to share with the jury. Damien is free to continue to be the center of the "B- Storyline." Let's hope the stories are intriguing and keep the viewers interest.
Last week, I had come to the conclusion that due to the hiring of Heather Locklear budget cuts were made. The cuts included the characters of Carmen (Dana Davis) and Pindar (Kumail Nanjiani) never appearing in the same episode. Since Carmen popped up last week, I was assuming we would get to see a glimpse of Pindar. Though I was wrong about which character we would see in this episode, my theory still held up. Carmen actually played a big part in this episode doing investigative work for both F and B's meteor case and Damien's murder trial, while Pindar was not even mentioned. So does that mean Pindar will appear next week? Stay tuned to find out.