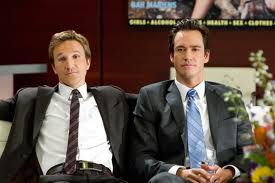 Franklin (Breckin Meyer) and Bash (Mark-Paul Gosselaar) are playing the field. You may be asking yourself, what's new? These two are always flirting with California's most eligible women. The field in question is actually diamond-shaped and used to play America's favorite pastime. In the latest episode "Control," the duo is helping a struggling minor league pitcher with a heckler.
The Stars best pitcher, Zack (Greek's Aaron Hill), has been in a slump. He asserts it is due in part to Teddy, a fan of the Mongoose. If the Stars lose their next two games, the Mongoose will make it into the playoffs. Teddy believes the only way to accomplish this is to jeer the all-star. F and B do get Teddy arrested but it doesn't hold up in court. He is released and back by the field, in his RV, shouting taunts at poor Zack.
While in court, F and B come up with another crazy idea. With the help of Infeld (Malcolm McDowell), the two sit outside with Carmen (Dana Davis) and heckle the judge. They are trying to prove that all this jeering causes someone to not perform their job adequately. This wild scheme does not bode well with the judge and he dismisses the case.
The next day, F and B catch another Stars game. Teddy is still there. This time he has resorted to calling Zack a "Cupcake Queen." Zack loses it and destroys Teddy's RV. He is sent to jail, but is released after Teddy finds out Zack has been kicked off the team for the rest of the season. Zack admits that he was eating cupcakes in the locker room. The only way Teddy would have known this fact would have been from a player on the Stars.
Carmen does some investigating and finds out the RV Teddy owns was actually paid for in cash. Since Teddy is a horrible comedian and works at a pet store, the team figures out someone must have bought that for him. The number one suspect is Whiz, the pitcher that is replacing Zack. Whiz just received a $500,000 bonus from the team so he had motive and the money to hire Teddy.
In order to get Teddy to confess to being hired by Whiz, F and B tell him that his jokes are now owned by Whiz having been hired by him. An irate Teddy confronts Whiz. Lucky for our favorite lawyers, the confrontation was caught on camera. Whiz is fired from the team, Zack is reinstated, and Teddy is forced to never return to a Stars game. F and B can add another win to their resumes.
And finally, Heather Locklear's Rachel is given a storyline. Rachel's brother Hugh pays her a visit. We find out she is a former teen beauty pageant winner and that he buys bull semen to impregnate his cows. Hugh asks for his sister's legal advice after finding out the semen he purchased is a bad batch.
While in court, the judge wants the semen traced and tested to find out if it was bad. The company Hugh purchased the semen from believes there was no foul play. Rachel assumes her brother is lying when she finds out he spent a large sum of money on a hunting trip. She asks if he switched semen samples in order to make a huge profit. He is offended by the allegations. Lucky for Hugh, the case ends up being dismissed on a technicality.
The "C-Storyline" centered on Damien (Reed Diamond) golfing with a current judge in order to schmooze him get his seat on the bench. After sucking up to him for weeks, Damien goes on a rampage and calls the judge out. The judge finally agrees to retire and the golf game continues. However, Infeld finds Damien and the judge in a wooded area. The judge is dead and Damien's club is bloody. This appears to be the most intriguing storyline Damien has ever had and will be the center of the next week's episode.
I have come to the conclusion that when Heather Locklear joined the dramedy some budget cuts were made. As a result, Carmen and Pindar (Kumail Nanjiani) never appear in the same episode. Since Carmen was shown, albeit briefly, Pindar was mentioned but never shown. It is sad we may never see the two on screen together again, since the chemistry is so present when they are around one another. If my conclusion is correct, Dana Davis won't star in next week's episode. Should I start taking bets now?