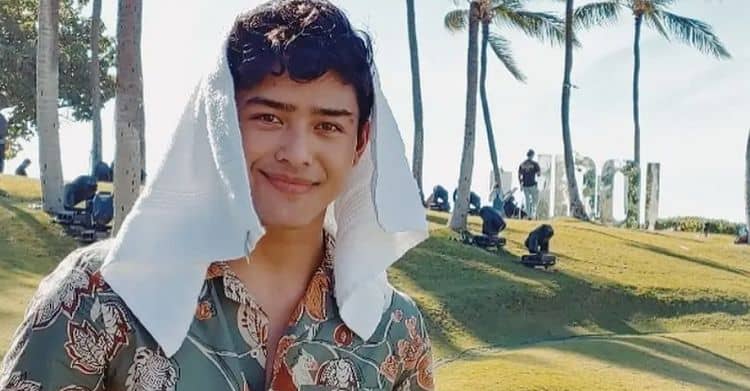 A few months ago, most people had never heard of Francisco Martin. Now, he's well on his way to becoming the next American Idol. The talented young singer who comes from the Bay Area has been turning heads since his initial audition. Many have even pegged Martin as a top contender who has the potential win it all. At just 19-years-old, there's no doubt that being on the show will change Martin's life forever, even if doesn't take home the W. Read here for 10 things you didn't know about American Idol contestant, Francisco Martin.
1. He Is Filipino
Francisco was born and raised in the United States, but he comes from Filipino roots. He is very proud of his culture and often incorporates it into his music. He has even performed music in Tagalong which is one of the languages spoken in the Philippines.
2. He's A College Student
Even though he's officially a star in the making, Francisco is also just a regular college student. Before American Idol (and the COVID-19) pandemic, Francisco was attending classes at a school in San Mateo, CA. After Luke Bryan heard Francisco sign, he half jokingly recommended that he drop out of school and pursue music full-time. Whether or not Francisco will actually follow through with Luke's advice is yet to be determined.
3. Maggie Rogers Is A Fan
Before Francisco Martin came on American Idol, he was a huge fan of Maggie Rogers. These days, Maggie Rogers is a huge fan of Francisco. After Rogers saw Francisco perform her song "Alaska" on the show, she tweeted a clip of the performance and said "I can't handle this".
4. He's A Songwriter
Francisco isn't just a singer, he's an all around artist. He is a very talented songwriter who loves to write music that is "infused with subtle elements of folk, pop, soul, alternative, and indie." He hasn't released any of his original music yet, but he plans to do so in the future.
5. He Loves Nature
Fresh air and sunshine definitely do the body good. Still, lots of people don't spend as much time outdoors as they should. Francisco Martin isn't one of those people, though. He loves to get outside and enjoy the beauty of his surroundings.
6. He's A Fan Of 70s Music
Francisco is only 19, but his taste in music reaches far beyond his years. If you've ever seen him perform, you can tell that he's tapping into some legendary energy. He grew up listening to his father's old albums from the 70s, and he fell in love with that type of music. Some of his favorite artists include Eagles, Dire Straits and Pink Floyd.
7. He is Very Observant
David think of himself as an observant person, a quality that has helped him in his creative pursuits. On his website, he says, "I always considered myself as an observer of all things when I am present in that moment. I like to think of myself as a story teller who tells the truth of things that happened to me personally; whether it be an intimate relationship or an emotional moment in my life."
8. He's Scared Of Being Misunderstood
Like many other artists, one of Francisco's biggest fears is being misunderstood by the world. He wants his listeners to realize that he is constantly growing and developing himself as a person and an artist, and he doesn't to be defined by projects he's worked on in the past.
9. His Parents Encouraged Him To Audition For Idol
For many parents, the thought of their child potentially dropping out of college to chase a music career is an absolute nightmare. But that's not how Francisco's parents felt at all. In fact, they are the ones who encouraged him to audition for American Idol. Without the support of his parents, Francisco isn't sure where he'd be.
10. He Likes Music That Makes People Feel
Some artists make music with the sole purpose of keeping people entertained, but Franciso also wants to make people feel. He puts his his own feelings and emotion into each song he writes. He says, "I walk on a very vulnerable and personal path of songwriting and I don't like to write what isn't true to me. I write what I think needs to be said and every word or lyric has almost always a personal meaning behind it."