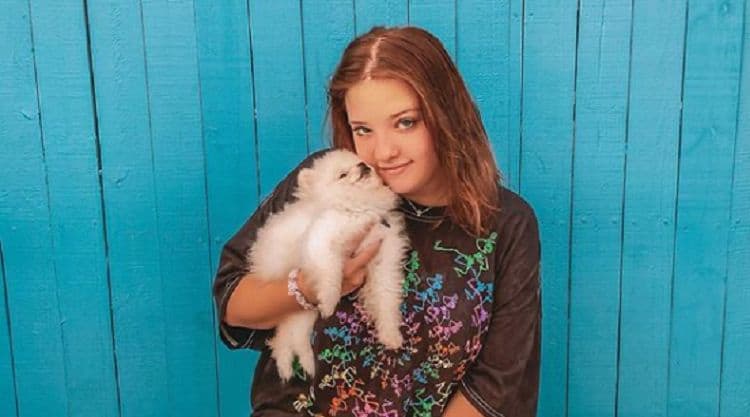 One of the best known directors in Hollywood, Martin Scorsese, is the father of twenty-year-old Francesca Scorsese. Born on November 16, 1999, this young actor seems to have been destined to follow in her father's footsteps and she is well on her way, carving out a phenomenal path with a bright future in the business. Scorsese has already appeared in a number of popular films, with her first ones starting at a young age. She may already possess a famous name in Hollywood, but her acting skills are all her own. You may recognize this young actress from one of her television or film roles, but here are 10 things you didn't know about Francesca Scorsese.
1. Daughter of famous producer/director
Martin Scorsese is one of the most recognized names in Hollywood. From producing to directing, if you watch any movies at all, then you have probably seen something he's produced or directed himself. He's won several awards throughout his, over 50 year career, and has worked with big names, such as, Robert De Niro, Leonardo DiCaprio, George Harrison, plus many more. He has had a few relationships in his lifetime, and produced a number of children with these women. Despite his age of 77, he is the father of this young, talented 20 year old actress and she has followed in her father's footsteps when it comes to a love for the movies.
2. She has a two half-sisters
Francesca is the youngest daughter of the famed Martin Scorsese, but she's not the only one. As just mentioned, he has been married a few times, and has more children from them, making Francesca the youngest of the Scorsese clan. She has two older half-sisters, Domenica Cameron-Scorsese, and Cathy Scorsese, whom she is close to.
3. She got her starring role while still a child
According to Celebs Close Up, Scorsese's acting career took off at a young age. Of course, with a family so heavily embedded in the movie industry, there's almost no doubt that at least a couple of Scorsese's kids would follow the same path. Francesca happens to be one who did, getting her introduction into acting in 2004 in the movie, The Aviator.
4. She's been in three award-nominated films
Getting roles in that hit the jackpot with the critics and movie-goers seems to be something Scorsese has already got down to a science. According to IMDB, Scorsese has already been in three award-nominated films. All three films were nominated for Best Picture at the Oscars, with one of the films actually winning the award. The films include, The Aviator (her first film in 2004), The Departed (2006), and Hugo (2011). The Departed is the film that was chosen as Best Picture that year.
5. What she's starring in, in 2020
Luca Guadagino is the writer, director and creator of a mini-series that centers around a pair of 14-year-old teens living on an American military base and trying to find themselves; something most teens can relate to. Scorsese has taken a role in the 8-episode series that's set in Italy and stars along with Beatrice Barichella, Alice Braga, and Jack Dylan Grazer.
7. Her father penned a letter to his daughter about changes in cinema
Martin discussed a letter he wrote to his young daughter during 2012 interview, letting her know his feelings on cinema. He tells her how different movies and the film industry has become during his years of being a part of it, letting her know that despite the changes that have already come, and are yet to come, with many movies now being watched on the internet and in other ways, that it doesn't matter how they are displayed, it's the content that makes the movie/story. He had this to say about movie making, "this revolution in movie-making, there is one important thing to remember: the tools don't make the movie, you make the movie."
8. She appears to be single
Fans are always interested in celebrities relationship status. They like to be in the 'know' of who's with who, so in checking on Scorsese's dating record, it appears that she's probably single right now. There aren't any mentions of her being connected to anyone in particular, although you can never be sure if she's not just keeping any relationship she's in, under-wraps for now.
9. Poked some fun at her dad with Marvel wrapping paper
It's been no secret how Martin Scorsese feels about Marvel movies, and he's made those feelings quite obvious in an interview. Scorsese blasted the comic-strip based movies that so many people find popular, claiming they aren't 'real' movies, or "cinema," but more like 'theme park attractions,' due to the fact that they lack in certain areas that other films have, and he mentions a psychological and emotional connection for audiences, specifically. According to Laughing Place, Francesca decided to have some fun with her father's bold comments about the genre of film and wrapped some of his Christmas presents in Marvel-themed paper, then posted her pics on social media to share with the world. It certainly let her father know how she felt about all the popular comic superheros that have been hitting the big screen for years now.
10. She almost shares a birthday with her dad
Francesca was almost a real birthday present for her father. It's always neat to hear of someone sharing a birthday with one of their parents, and this was almost the case for Francesca and her father Martin. Francesca's birthday is just one day before her father's, but I'm sure they still have a major birthday celebration for the two, together.