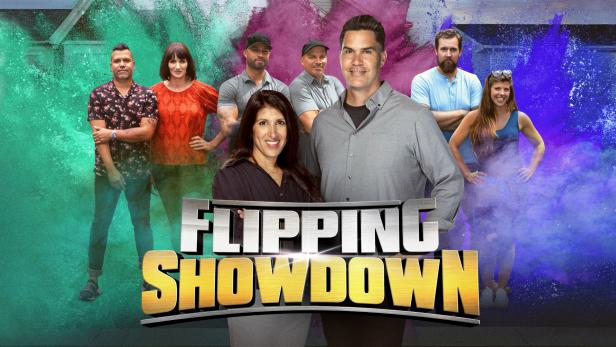 Over the years, HGTV has given home design lovers countless amazing TV shows. Just when you thought HGTV couldn't possibly come up with any other ways to spin real estate and/or renovations, the network always finds a way. The new series Flipping Showdown is a unique competition series centered around home renovations. In this series, home flippers will put their skills to the test as they undertake a big project to renovate a home. Not only will Flipping Showdown tap into people's love for design, but the show will also appeal to people's love of good competition. Keep reading to learn 10 things you didn't know about Flipping Showdown.
1. Ken And Anita Corsini Spent Their Own Money To Bring Flipping Showdown to Life
Lots of times people have questions about who pays for what when it comes to HGTV series. Many people will be surprised to find out that Anita and Ken actually dished out a lot of their own money for Flipping Showdown. During an interview with AJC, Anita revealed that she and Ken spent $2.5 million of their own money to acquire the properties used on the show.
2. Viewers Can Win A Prize For Watching
The competitors aren't the only people who have something to gain from Flipping Showdown. Viewers also have the chance to win some money. The series also has a sweepstakes that viewers can enter just by watching the show. In order to enter the sweepstakes, viewers must "Watch HGTV's new competition series Flipping Showdown on Wednesday November 17 at 9|8c and look for a special code to enter the sweepstakes for a chance to win a $10,000 prize. A new code will be revealed weekly within new episodes through the finale on December 22. Sweepstakes begins November 17 at 9:00 p.m. ET."
3. The Show Doesn't Have Its Own Social Media Profiles
If you're the type of person who likes to follow your favorite shows, I have some bad news for you: you won't be able to do that with Flipping Showdown. At the moment, the show doesn't have any official social media profiles. However, if the series sticks around for a while, that could change.
4. The Winner Get More Than A Cash Prize
The team that wins Flipping Showdown will earn a $100,000 cash prize. However, that isn't the only thing they'll win. Flipping Showdown is literally the gift that keeps on giving. The lucky winners will also get the opportunity to work with Anita and Ken and start their own house flipping business.
5. The Show Was Filmed In The Atlanta Area
HGTV shows are filmed all over the United States and some are even shot in other countries. To keep things simple, Flipping Showdown was filmed entirely in the Atlanta area which is where Anita and Ken are based. From what we can tell, all of the competitors are based in the area as well.
6. Season 1 Will Be Relatively Short
Now that binge-watching is many people's preferred way to watch TV, it's always nice to know how many episodes you're going to have to watch. Unfortunately for those who like longer seasons, that's not what you're going to get with Flipping Showdown. Season 1 will consist of just 6 episodes.
7. Production Was Delayed Due To COVID
The COVID-19 pandemic had the entire world at a standstill for several months, and the entertainment industry was certainly no exception. Production for Flipping Showdown was delayed for several weeks after Ken and Anita both contracted the virus. Fortunately, it appears they have both made full recoveries.
8. The Flippers Will Be Evaluated In Three Catagories
As the flippers are working on their projects, there are three things they should keep in mind for when they are being evaluated. According to AJC, "The three key elements they sought were how well each team could pull off their own designs, how much money they could make in the flip and how well they worked with the general contractors."
9. The Flippers Aren't First-Timers
Flipping Showdown isn't one of those shows where people will be getting their feet wet in the renovation world. Instead, all three groups that are competing on the show are made up of people who have successfully completed other renovation projects in the past. This means that viewers can rest assured that the competition will be good.
10. The Projects Must Be Completed On A Tight Budget
Part of what Anita and Ken will be looking for is whether or not the flippers have the creativity and flexibility to complete big projects on a limited budget. Contestants will have to think outside of the box in order to get the renovations completed in a timely manner.
Tell us what's wrong with this post? How could we improve it? :)
Let us improve this post!