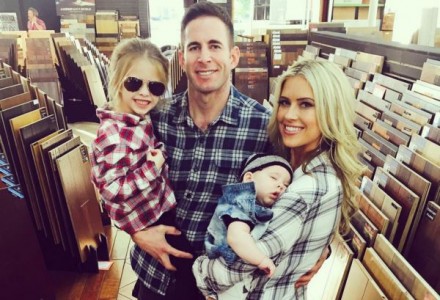 Not only does HGTV not mind the divorce of Flip or Flop stars Tarek and Christina El Moussa, they are doubling down on the Flip or Flop franchise. Only about a month ago Flip or Flop was in serious trouble of being canceled due to the surprise break up and eventual divorce of Tarek and Christina, the show's two stars. However the former couple has completely rebounded in the public eye by continuing to work together and moving past their issues. Ratings for Flip or Flip haven't decreased so naturally HGTV wants to keep it running.
But they're not just keeping the show running. They're adding five new spinoff shows to the original which is based in Southern California. The five new shows will be based in Chicago, Nashville, Atlanta, Las Vegas and Texas.
"Because every market is unique, there was an opportunity to highlight what works in various regions by featuring successful people in different locations who had mastered the art of flipping in their town," HGTV's general manage of U.S. programming and development, Allison Page, told US Weekly.
The first show in the series to debut will be Flip or Flop Las Vegas that is set for April 6. As far as the stars go, Bristol and Aubrey Marunde, who have been flipping together for almost 10 years, will star in the seemingly extravagant Flip or Flop Las Vegas. "I bring in a lot of chandeliers and lighting and hardware and things that take the properties over the top," Aubrey, a mother-of-two, said.
Flip or Flop Nashville will feature former NFL star DeRon Jenkins and his ex, Page Turner. We're not sure about the other shows.
Does anyone else sense a conspiracy is going on here? Was this whole breakup planned at some point? I'm just saying. Someone needs to investigate this.
Tell us what's wrong with this post? How could we improve it? :)
Let us improve this post!