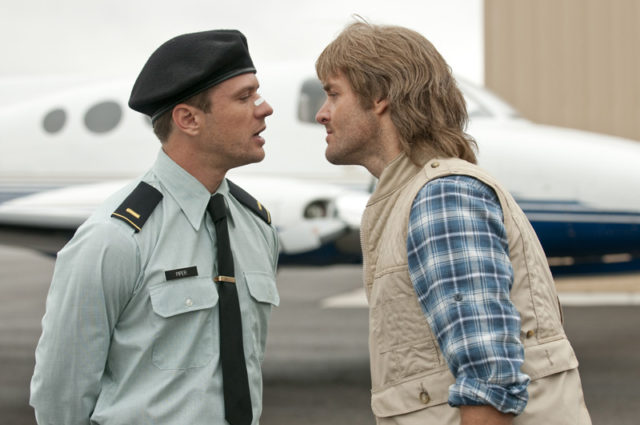 Ryan Phillippe is an actor, writer, and director who was born New Castle Delaware, on September 10, 1974. He has had starring roles in many highly-acclaimed movies, including 'What You Did Last Summer', Cruel Intentions', 'Gosford Park', 'The Bang-Bang Club', and 'Flags of Our Fathers'. He is also well-known for playing the leading role of Bob Lee Swagger in 'Shooter', a thriller drama aired on USA Network. In addition to his fame on screen, he is also famous for his being married to Reese Witherspoon between 1999 and 2007. The couple has a daughter and a son together. While Phillippe has received many positive reviews for a large number of his movie roles, there are some of his movies that were less successful. In fact, the actor himself has claimed that many of his movies were a huge disappointment. Here are five of the worst movie roles in Ryan Phillippe's career.
1. Set Up
By Phillippe's own admission, this was one of the worst movies he ever made and it grossed just $2,128,186 at the worldwide box office. In addition to Ryan Phillippe playing the role of Vincent, there was a star-studded cast for this movie, including 50 Cent and Bruce Willis. This 2011 action thriller heist movie is about three friends who plan a heist together. It was co-written and directed by Mike Gunther.
2. MacGruber
This 2010 action comedy is based on a sketch of the same name form the 'Saturday Night Live' series. The title role is played by Will Forte with Kirsten Wiig taking the role of his love interest. Ryan Phillippe plays Lieutenant Dixon Piper. Jorma Taccone directed this movie which was a critical and commercial flop when it was first released. The movie had a budget of $10 million but grossed only $9.3 million at the worldwide box office.
3. Revenge for Jolly!
'Revenge for Jolly' is a comedy-drama film that was released in 2012. It is about a man who avenges the death of his dog. Ryan Phillippe plays the part of Everett Bachmeier and others starring in this film include Brian Pestos, Oscar Isaac, Elijah Wood, and Kristen Wiig. It was written by Brian Pestos and directed by Chadd Harbold.
4. Nowhere
'Nowhere' is one of Phillippe's earlier movies and he had a role in this black comedy drama in 1997. The movie is about a promiscuous bisexual teen couple and Phillippe plays the role of Shad who is a character who has a lust for life and is crazed with sex. The movie was written and directed by Gregg Araki and starred Rachel True and James Duval. It is part of a series of three films called the 'Teenage Apocalypse Trilogy'. This movie was a massive flop at the box office as it grossed just $194, 201.
5. The I Inside
In this 2003 psychological thriller, Ryan Phillippe plays the lead role of Simon Cable. Michael Cooney wrote this film and based it on his play 'Point of Death'. It was directed by Roland Suso Richter and also starred Sarah Polley, Piper Perabo, Stephen Rea, and Robert Sean Leonard. The story is about a man who wakes in the hospital with amnesia and cannot remember the previous two years of his life. He has to gradually piece together what has happened to him.
Tell us what's wrong with this post? How could we improve it? :)
Let us improve this post!