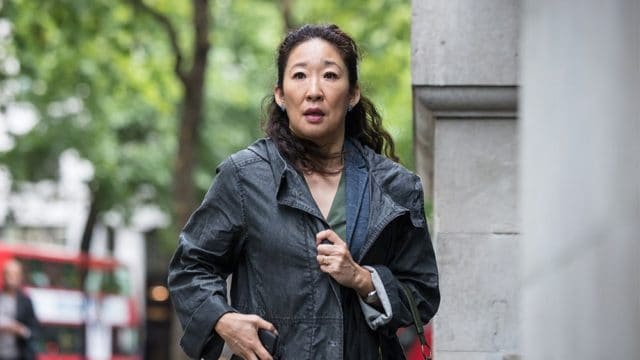 This British drama took a couple of years in the making. New show Killing Eve was actually ordered by BBC America in 2016, and it just premiered on April 8, 2018. We can't tell you why it took that long to be released, but we can tell you that it's probably good that they did. The show is so good that it's already been renewed for the second season before the first one even started. The Killing Eve premiere was an exciting ride from start to finish. If every episode is going to be like the first one, we can't wait to tune in every Sunday. Here are five things we learned from the series premiere that's guaranteed to get you enticed for the show.
Women can be true villains too.
Our latest favorite TV character is Killing Eve's Villanelle, played by Julie Comer. It's rare to see a full-fledged female villain on TV, and it's quite refreshing to see that such a character can carry a show's antagonist so eloquently. Comer also does an excellent job in making sure that we get mixed emotions about her character. Do we like Villanelle or should we hate her? We're not sure yet at this point, but we might unfortunately be leaning towards loving the bad girl.
Sandra Oh's still got it.
Ever since she left Grey's Anatomy, we've been waiting for Sandra Oh to grace our television again with her witty dialogue and lovely sarcasm. We might not get that in Killing Eve, but we saw something else just equally attractive in the premiere of the show. Oh plays the title character of Eve Polastri, the MI5 Officer who became obsessed with tracking down Villanelle, the crazy assassin.
Villanelle is a highly skilled killer.
She has to be, right? She is an assassin after all. However, in the first episode, we get a glimpse of how she works. She blends in seamlessly in places, and she has absolutely no hesitation in finishing the job. We also learned that she could kill with a hairpin. If that's not skill, we're not sure what could be. Villanelle is straight up cold-blooded.
Eve is just as troubled.
It's given that Villanelle is a troubled character–she's a psychopath assassin after all. But from the first episode, we gathered that the protagonist might just be as troubled. It could be coming from her desk job, or it might be coming from her marriage. We're guessing that it's both. She's definitely not happy, and we're thinking that the reason she gets into a cat and mouse game with Villanelle is because she's just miserable and bored with her life.
She will kill again.
And again..and again…until she kills Eve somehow. Of course we're looking way too far into the future, but we can't help but wonder who Villanelle's next victim will be. We found out in the premiere that the killer is starting to show off for some reason. Why she's doing that and why now is a great big question for all of us viewers. Maybe next episode will shed a little light on it. We're both dreading and looking forward to seeing who the next victim is. We hope that Villanelle's not rubbing on us already; that would just be terrible.
Tell us what's wrong with this post? How could we improve it? :)
Let us improve this post!