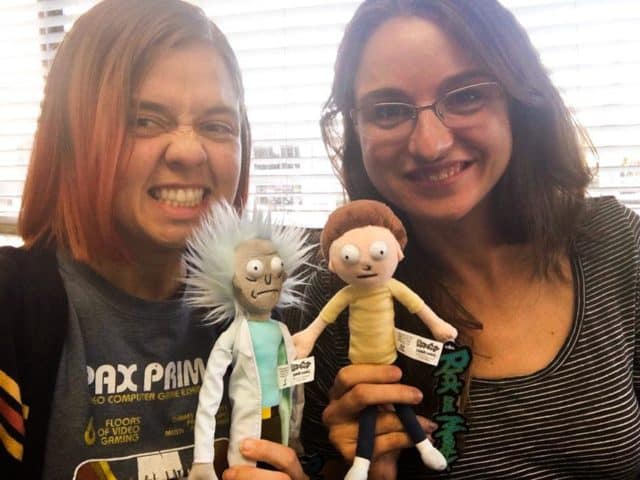 Sometimes all you need is a lucky break, and Sarah Carbiener has managed to get just that now that she's a writer for the popular Adult Swim show, Rick and Morty. For those of you out there groaning know that this show is likely to change in its third season now that female writers have joined the cast, but hopefully only for the better. It will be interesting to see what kind of ideas and developments can come from a writing group that's now fifty-fifty when it comes to gender.
It couldn't hurt anything to be honest.
5. She has very few writing credits to her name.
Sarah really hasn't written much of note it would seem though she has been in on a couple of projects that have been noticed. Still it was a longshot to think that she might be able to get in on a job like writing for Rick and Morty. While it's easy to assume that a lot of the world still doesn't know about the late night program, those that do are growing in number every day it seems, allowing the show to continue forward as more episodes are developed and put onscreen.
4. She's been and Rick and Morty fan for a while.
You would almost have to be a fan of this show to want to write for it, as the ideas that come out of the writing room are no doubt stuff that people who are dedicated to the show think up. This isn't the kind of show to write for if you're going to do half measures, so being a fan is almost a prerequisite. What goes on in the writing room when it comes to getting ideas flowing is anyone's guess, but with this show it's better that it remain a mystery.
3. So far her fame is building quickly.
Considering that many Rick and Morty fans happen to know everything about the show from who writes it to who directs it she's going to be a known character in a very short time. The mere fact that she's now in the writer's room is going to be enough for a lot of people to be heaping praise on her for each and every episode, right along with the other writers. Of course that can go the other way too.
2. There was the issue of whether she'd be able to continue watching the show if she was rejected.
She really didn't know if she would be able to keep watching the show if she got rejected. Thankfully that question never came up again, but it's understandable since watching it after being rejected she could have sat there and wondered what might have been. Few writers ever actually WANT to do that.
1. At this point she's one of four female writers for Rick and Morty.
The writer's room is now half and half when it comes to men and women, creating a better balance when it comes to the creative aspect. Whether this will matter to fans isn't really known, but at the very least it makes sure that there is a woman's input when it comes to Rick and Morty.
Things shouldn't change too much it seems.