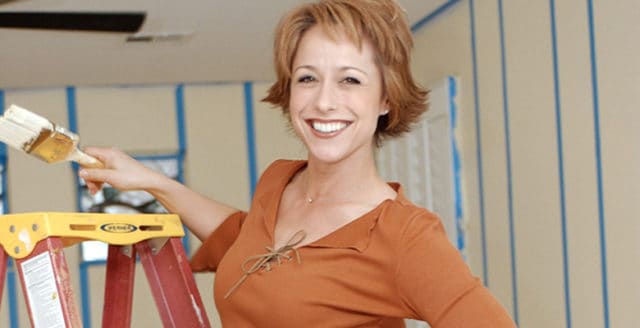 Hosting popular television shows is one of the most difficult jobs in the entertainment industry. While hosting is a talent in itself, many of the most prominent hosts on television are remarkable performers in their own right. Such is the case with the highly popular and versatile Paige Davis.
Davis rose to fame thanks to her incredible hosting work on Trading Spaces. While she departed from the series for several years, she is set to return again as host of the show. Despite becoming a household name, many people think of Davis as only a television host. In reality, she possesses a wide range of skills as a performer. For those who want to know more about this dynamic entertainer, here are five of the most interesting facts about Paige Davis.
5. She is a talented writer
Naturally, fans of reality television clamor to know more about the show and its stars. For this reason, Davis decided to write a book explaining her experiences on television. The book was an immediate success, rising to the New York Times "Best Seller List." The book, titled Paige by Paige, stayed on the list for several weeks. Clearly, in addition to her skills as a performer, Davis is a very skilled writer.
4. She has formal training
Davis clearly has a great deal of natural talent and charisma. However, many fans are unaware of the many years of formal training Davis has had. She started training at a young age, attending the Louisville Youth Performing Arts School. She went on to study at the Southern Methodist University's Meadows School of the Arts.
3. Her wedding was featured on TV
As a television host, Davis typically draws the attention of the audience to the events and people being featured on the show. However, her own life has also been thrust into the spotlight. Most notably, this occurred when she married actor Patrick Page in 2001. The marriage was featured in the highly popular TLC series A Wedding Story.
2. She met her husband on stage
Davis may be known to fans as a host, but she also has acting experience. Interestingly, it was acting which brought her and her husband together. They both performed in a national tour of Beauty and the Beast, with Davis portraying Featherduster and Page portraying Lumiere. The two got to know each other during the tour and fell deeply in love.
1. She is an accomplished actor
While her highest-profile work has arguably been hosting Trading Spaces, Davis actually has a long and decorated career as an actor. She has performed several times in national Broadway tours, with roles in Beauty and the Beast, Sweet Charity, and Boeing-Boeing. She received rave reviews for her work in Dancing Lessons, and also had the lead in the interactive play Miss Abigail's Guide to Dating, Mating, and Marriage.
Final thoughts
Paige Davis is making her much-anticipate return to Trading Spaces as the show's host. While she is a highly skilled and charismatic host, fans should remember that she actually possesses a wide range of talents. In addition to hosting, she is a highly acclaimed stage actor and has written best-selling books. Her return to Trading Spaces will undoubtedly keep fans interested and entertained each week.
Tell us what's wrong with this post? How could we improve it? :)
Let us improve this post!