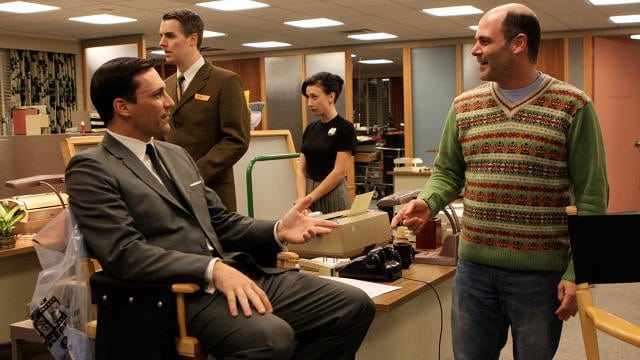 Actors are rightfully given a great deal of praise for their ability to deliver messages with powerful performances. However, the individuals who are truly in control of what a production brings to audiences are the creators and writers. These people are able to craft entertaining, moving, and sometimes life-changing artwork. Such is the case with the highly accomplished Matthew Weiner.
Weiner rose to fame and fortune thanks to [easyazon_link identifier="B013BPR7QU" locale="US" tag="tvovermind00a-20″]Mad Men[/easyazon_link], which he created. He has since been the recipient of countless awards including nine Primetime Emmys and being included on Time's list of the 100 most influential people in the world in 2011. Despite this success, many people know little about Weiner, as his work is done behind the scenes. Here are a few facts about this remarkable director, producer, and writer.
5. He has an impressive education
Given the brilliant writing of Mad Men, it is no surprise that its creator is well educated. After high school, Weiner studied literature, philosophy, and history at Wesleyan University. He would go on to study at the University of Southern California School of Cinema and Television, where he earned an MFA. Interestingly, Weiner did some stand-up comedy while at university.
4. Matthew Weiner Net Worth
When people discuss the rich and famous of Hollywood, they are usually talking about actors. However, the people working behind the scenes can make quite a payday as well. Thanks largely to the success of Mad Men, Weiner's net worth is estimated to be around $25 million. After directing several well-received works in recent years, such as Person to Person and an episode of Orange is the New Black, it is clear that Weiner will have no trouble finding work in the future.
3. He has worked on other notable shows
[easyazon_link identifier="3836526433″ locale="US" tag="tvovermind00a-20″]Mad Men[/easyazon_link] is still held as one of the greatest television shows in history. As such, it is no surprise that people think of the show whenever Weiner's name is brought up. However, it is not the only series that he has helped develop. He also served as a writer and executive producer for The Sopranos, another highly acclaimed series. It seems that whatever the product, Weiner has a way of making it truly outstanding.
2. His wife supported him
After making tens of millions of dollars and working on some of the most beloved television shows in history, Weiner is almost certainly financially secure. However, this was not always the case. Before finding success with Mad Men, Weiner was unemployed and spent his days writing. Luckily, his wife, Linda, supported him. She worked very hard as an architect, earning enough money to allow Weiner to pursue his passions. Luckily, this sacrifice has clearly paid off.
1. He had a hard time getting Mad Men made
Today, everyone knows just how special and powerful Mad Men was. It may surprise fans of the show to learn that many studios rejected Weiner when he brought them the script for the show. Both HBO and Showtime refused to produce the show. Eventually, Weiner took the script to AMC who was looking for something different than other shows at the time. Obviously, AMC made the right call.
Conclusion
Matthew Weiner has established himself as one of the most talented and hard working writers in show business today. While he is best known for creating the incredible series Mad Men, he was also a large part of the success of The Sopranos. He overcame a great deal in order to find such success, including years of unemployment and a great deal of rejection. Luckily for audiences, he persevered through these difficult times and created amazing works of art.
Tell us what's wrong with this post? How could we improve it? :)
Let us improve this post!