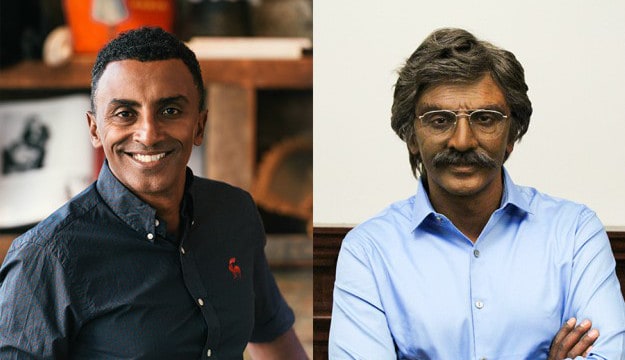 For those who are unfamiliar with the name, Marcus Samuelsson is a famous chef who was born in Ethiopia, raised in Sweden, and found success in the United States. At the moment, he runs a restaurant called the Red Rooster in Harlem, but it is interesting to note that he is also an author, an adviser to the Institute of Culinary Education in New York City, and a Visiting Professor of International Culinary Science at Umea University in Sweden. Something that speaks volumes about his expertise and experience in his chosen profession.
Here are five things that you may or may not have known about Marcus Samuelsson:
He Was Born in Ethiopia
Samuelsson was born Kassahun Tsegie in 1971 in Ethiopia. When he was still a child, he and his sister were separated from the rest of their family by the Ethiopian Civil War that started in 1974. As a result, both of the siblings were adopted by Ann Marie and Lennart Samuelsson in Gothenburg, Sweden, where they were renamed Marcus and Linda Samuelsson. Fortunately, the siblings' father managed to survive the Ethiopian Civil War, with the result that he is still living in the village where Samuelsson was born.
Became Inspired By His Grandmother
As a child in Sweden, Samuelsson became interested in cooking by spending time with his maternal grandmother. In time, his interest brought him to the Culinary Institute in Gothenburg. Afterwards, he apprenticed in Switzerland and then Austria before heading to the United States in 1991 to become an apprentice chef at Restaurant Aquavit.
Found Meteoric Success at Restaurant Aquavit
By the age of 24, Samuelsson had managed to become the executive chef at Restaurant Aquavit, which was nothing short of remarkable. Furthermore, he didn't just manage to receive a three-star restaurant review from The New York Times but also did so as the youngest chef to do so, further cementing his reputation. As a result, it is no wonder that Samuelsson was named "Best Chef: New York City" in 2003 by the James Beard Foundation, which is a national non-profit that exists for the purpose of honoring and nurturing American cuisine.
Can Cook a Wide Range of Cuisine
Given his far-ranging background, it should come as no surprise to learn that Samuelsson has mastered a wide range of cuisine. For example, he started a second restaurant called Riingo in 2003, which specialized in American cuisine with Japanese influence. Furthermore, he has written books about not just American cuisine and Swedish cuisine but also African cuisine. Finally, it is worth mentioning that Samuelsson has on at least one occasion, served up food that was American in nature but incorporating Indian influence for Prime Minister Manmohan Singh of India, who was on a state visit to the United States at the time.
Won Top Chef Masters
In 2010, Samuelsson competed against 21 famous chefs in Top Chefs Masters on Bravo. He emerged as the victor of the competition, earning a total of $115,000 for UNICEF's The Tap Project. Like its name suggests, The Tap Project is a campaign meant to raise funds so that all children will have sustainable access to safe drinking water, which sounds like such a small thing but is not as readily available as people in developed countries would expect.
Tell us what's wrong with this post? How could we improve it? :)
Let us improve this post!