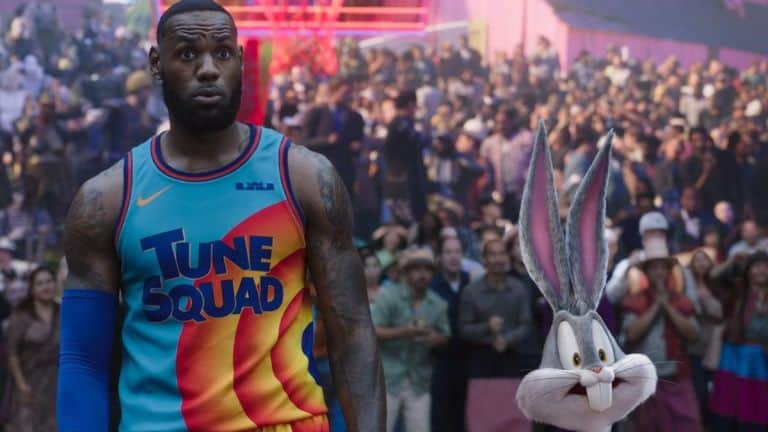 Initially, this movie looks like another way for people to hear that 'Lebron James is King' in an eye-rolling manner that a lot of people have become tired of over the years since, despite his insane level of talent, the continual hype for this individual has become stifling in a big way. But Space Jam: A New Legacy, isn't all bad even if it's not all good. There are definitely many layers of cheese that are punctuated by corny lines and a realization that LeBron isn't any better of an actor than Michael Jordan was. Oh yeah, before I go further, there are spoilers coming, so if you haven't seen the movie yet, it might be time to stop reading. Or keep going, and you might get one more opinion to add to your own when it comes time to watch the movie. But in a big way, this movie does feel like a way to stroke Jame's ego much as the first movie was meant to do the same for Jordan. There's a similar amount of build-up to the moment that leads LeBron being sent to Tune World by Al G., a villainous algorithm that's played by Don Cheadle, and it establishes, for the most part, that he's the kind of father that wants his sons to grow up to be just like him.
When Dom, his younger son, wants to design video games and ends up creating a basketball game that goes against the fundamentals of what James believes are all important to the game, Dom is of course crushed since it feels as though his father doesn't care enough about what he values and only wants him to follow in his footsteps. In other words, LeBron isn't a bad dad, but he's definitely too hard on Dom since Dom won't just fall in line. But when the WB pitches an idea to James that is devised by Al G., James ends up rejecting it and insulting Al G., who then entices Dom to finish his game in the hopes of beating LeBron and showing that Al G. is the real king.
The story moves along at such a pace that one can't help but call a time out now and then just to catch their breath. Long story short, the Tune world is abandoned since Al G. convinced the other tunes that they could do better, meaning that they took off for other worlds within the Serververse, such as DC, Game of Thrones, The Matrix, and various others. Warner Bros. pulled out all the stops for this movie since the number of characters that were tapped to show up in this movie is just insane, since, during the anticipated game, which is Dom's game, that is stolen by Al G., there are white walkers in the crowd, along with Pennywise, King Kong, the Iron Giant, and too many personalities to easily count or name. But the point is that the game is the only way for LeBron and the tunes to keep Al G. from taking over, and the trick is that this isn't any old basketball game, since Dom's version is utterly looney, rewarding massive numbers of points for style, tricks, and by using other boosts that create an experience that's definitely funny in a lot of ways.
As one can expect, the realization that the Tunes need to be let loose instead of hemmed in by LeBron's style of play comes during the second half, and while Al G.'s Goon Squad are tougher, powered-up versions of actual NBA and WNBA players, the Tunes are able to run circles around them to make a stand and then a comeback, thereby defeating Al G. and saving the day. To say that the movie is predictable is obvious, but there are enough laughs and old school moments to be had along the way since the Tunes coming together again is bound to remind people that the Looney Tunes are and always be a part of the Warner Bros. universe, and they can survive anything, even being forgotten for a while. The fact that some things have changed is something that people simply have to get used to, while the things that have stayed the same are bound to be worth remembering for a while to come.
So in summation, Space Jam: A New Legacy isn't too far off the mark from the first movie, as it's an updated version with a new story and direction that is easier for people of today to relate to. The days and weeks and months spent worrying about whether this would be a worthy successor are over. And the verdict, at least from our end, is that it's not bad, but it was the Looney Tunes, as expected, that showed up to save this movie from being all about LeBron.