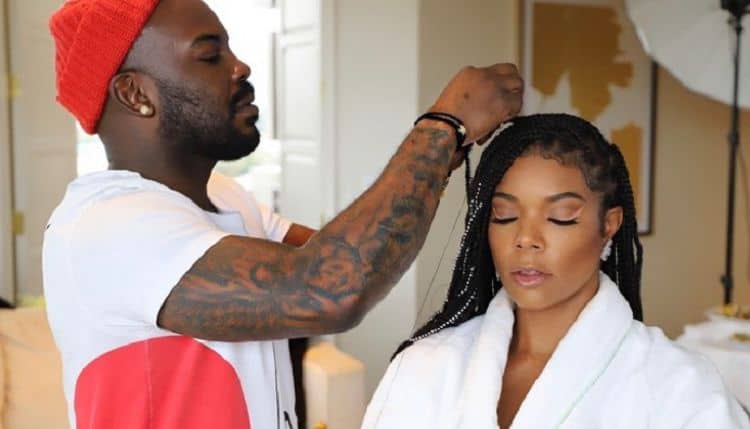 Larry Sims is the guy that makes celebrities look their best. He's a noted hairstylist whose talents are in high demand in posh circles. He's set to join six of his friends in the new docuseries "Invite Only Cabo." Sims is the pro who gives stars such as Gabrielle Union, Tracee Ellis Ross and Victoria Beckham their amazing hairstyles. It's common knowledge that Sims is one fine hairstylist, and it would be great to see him a few times a month, but here are five things that you didn't know about this famed celeb stylist.
1. Before he gained fame as a stylist
Who would have thought that this talented hair god started out as a dancer? It's true, and he was fairly successful in the more than ten years that he danced professionally. He appeared in television shows and music videos which allowed him to make some pretty cool connections in the glam industry.
2. Christopher Maldonado helped him transition from dancer to hairstylist
Christopher knew that Sims had a passion that went beyond his affection for dancing. He encouraged Larry to pursue cosmetology school and gave him support through his transition and journey to get where he is today. Unfortunately, Maldonado died tragically in the same airplane crash that took Aaliyah. While he was here, her served as mentor for Sims.
3. Sims worked in film to support his new career in hair
When Larry first started out as a hair stylist, he needed to have a supplemental income. He had not yet made a name for himself in the fashion industry so he had to do two things at once to support his new business. He continued to appear in a few films until his big break as a celeb hairstylist came. Jessica Simpson introduced Sims to her stylist and he started helping him out in his salon. Victoria Beckham received her iconic bob from Larry Sims. This was enough to spread the news about his talents and soon, celebs started booking with him. Within a few years, Sims had developed his own line of products for marketing and the rest is history.
4. Larry Sims is not a snob
Even though Sims has attained success with some of the most glamorous celebrities in the industry, he hasn't lost sight of the fact that not everybody can afford to buy expensive hair care products. He's quick to give his opinion that some of the lower priced hair care products are just as good as the high end ones. He's not stuck on extravagance. Although there are some great high end products that work great, you can still find equally good options at more affordable prices. This just makes him too cool.
5. Larry Sims is a daydreamer with great plans for the future
Sims realizes that there is much more for him to accomplish as a hair stylist. He wants to take his brand to the next level, but he's being careful about how he proceeds. He is adamant about avoiding becoming jaded or burned out because of the fast pace of the industry. He is very open about growing up in the Chicago Hood and is thankful that he made it out. He's got great plans for the future. He knows where he came from and this helps him to have a firm grip on reality so he can move ahead without the baggage.