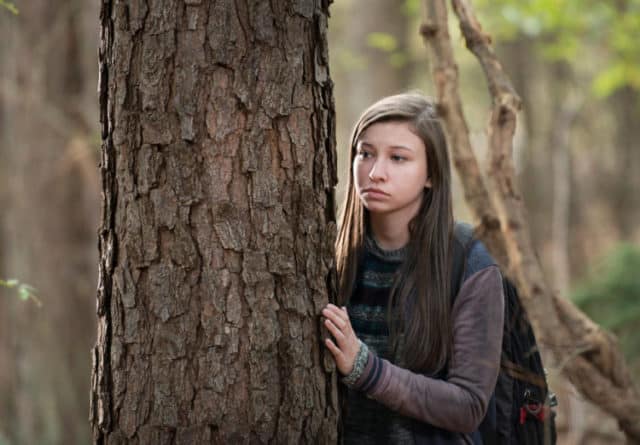 If you watch The Walking Dead then you probably recognized Enid right away, the shy girl that Carl met when he got to Alexandria and who doesn't seem to know which way to turn throughout her role in the series. As of late however however Enid has really become a part of the community and has finally opened up to people in her own way. The actress has been interested in her craft for a long time and has been taking steps towards becoming the talented young woman she now is. Her first real try at anything in the performance arts came when she was only three years of age and was entered into ballet lessons. That might seem a little young for such a rigorous activity but thus far it's helped Katelyn become who she wants to be.
Here are a few more facts you might not know about Katelyn.
5. Her brother tends to accompany her to several different events.
This sounds like it might be more of a comfort thing or perhaps a favor that she does for her brother to expose him to the world she lives in at this time. Managers and agents tend to ask who he is but in reality he has no real interest in the business. Like I said it could be just a tag-along thing, which would still be pretty cool for her brother since he'd get to see a lot of different aspects of what she does.
4. She met her current manager at a summer camp.
Katelyn met her manager at an acting camp. It seems like it would be the most natural spot to meet someone that could help her along with her intended career. Somehow I get the feeling that managers and talent scouts might actually frequent such camps in an attempt to find the next big deal. It almost seems opportunistic but in reality it's not too different from scouts looking at new pro talent for sports teams.
3. She first gained people's attention in a short video on Adult Swim.
I have to admit I've just about lost faith in Adult Swim but I will admit that it's helped some people to launch their careers and has produced a few shows that people absolutely love. This will not become a rant about Rick and Morty but seeing as how they're on Adult Swim their mention seems a little warranted at least. Thankfully Katelyn didn't get her start there, but on her own merit.
2. She was born and raised in Georgia.
I simply find that amusing since the show that's given her so much do lately, The Walking Dead, takes place in Georgia. Some people might look at me odd and try to figure out just what I'm thinking, not a recommended proposition, but again I think it's pretty cool that she gets to act in a show that is based in her home state. She might even have a few pointers if they're filming somewhere she might recognize.
1. She's been drawn to acting since a very young age.
As it was mentioned above she was in ballet at the age of three and has been looking to become an actress for a good part of her life. She's been in the business now for a little while and is doing great, so there's nothing to say that we won't be seeing her again. Chances are her role as Enid will land her something else and we'll get to see Katelyn move on with her career.
It'd be interesting to see what else she can do.