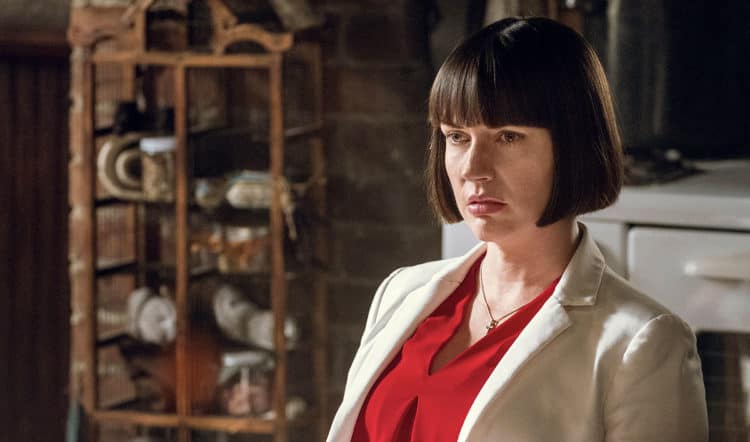 As much as fans love actors, there is nothing that captures the public more than a celebrity couple. Everyone knows that acting couples are prone to high profile and messy breakups. However, this is not always the case. A lucky few are able to be great assets in their partner's career. Such is the case with the incredibly talented Julie Ann Emery and her husband.
Emery has earned a significant following thanks to her work in productions like Fargo and Better Call Saul. Most recently, she has been entertaining fans on the show Preacher. Despite such success, many know little about her personal life. Here are five of the most interesting facts about the versatile and talented Julie Ann Emery.
5. She is a martial artist
Most actors have stunt doubles to do their fight scenes, but this will likely not be the case with Emery. She is a trained martial artist who holds a purple belt in Tae Kwon Do. She has stated that she has to pull back from sparring while she is shooting, as she can't go to work with a black eye. Otherwise, however, she is a passionate and dedicated martial artist.
4. She is well trained
Emery's exceptional talent shines through very clearly on screen. Fans may assume that, given her obvious talent, she simply began landing parts effortlessly. However, this is not the case. Emery has become the actor she is today thanks to years of hard work and dedication. Most notably, this included studying acting at the renowned Webster Conservatory. Clearly, investing in a proper education was a wise decision.
3. She stood out among her peers
At a distinguished institution like the Webster Conservatory, one can expect there to be huge numbers of talented performers. However, Emery stood out even among the most talented of her peers. While in college, she was awarded the coveted Marsha Mason scholarship, named in honor of the iconic actress.
2. She does more than act
Although she is best known for her incredible performances on stage and screen, Emery is also incredibly gifted behind the camera. Perhaps most notably, she created a highly popular web series Then We Got Help. The series earned Emery an incredible array of awards from distinguished organizations. With the success of her first project, she is now working on creating television shows and films.
1. She and her husband make an incredible team
Celebrity couples are notorious for frequently breaking up. However, Emery and her husband Kevin Earley seem to have the perfect relationship. Not only are they happily married, but the two actors even collaborate on projects. Most recently, the couple directed a play which won the United Solo Theatre Festival. To find a celebrity couple that stays together is rare enough; finding a celebrity couple that can work together and maintain a happy marriage is simply astounding.
Final Thoughts
Julie Ann Emery is emerging as one of the most capable and sought-after actors working today. She has a wide range of talents, from acting on screen to acting on stage to working behind the scenes. In addition, she has managed to have such a successful career while also enjoying a happy marriage to a fellow actor. She is a perfect example of a performer who did not sacrifice her relationship to find success in the entertainment industry.