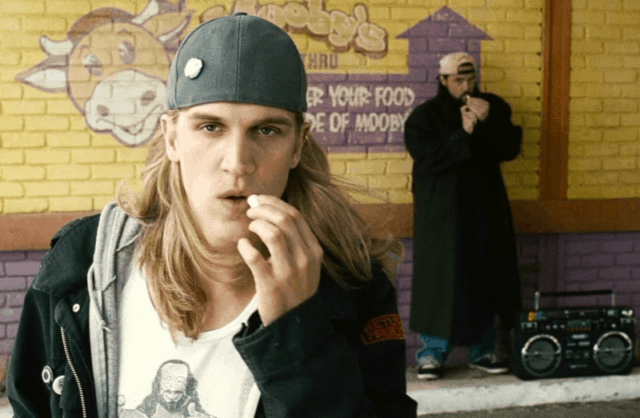 Jason Mewes, an American actor, gained fame for his portrayal of Jay in the 1996 cult classic "Jay and Silent Bob." As the talkative half of the weed-smoking, foul-mouthed duo, Mewes delivered lines that were definitely not suitable for young ears. The comedy struck a chord with the younger generation of the time and remains a memorable piece of cinema today. Now 43, Mewes has expanded his horizons in the film industry. Here are five intriguing facts about him that even his most ardent fans might not know.
1. Mewes' Multifaceted Career in Entertainment
After his iconic role as Jay, Mewes continued to act in films and television shows. Eventually, he diversified his career by becoming a film producer and an internet radio show host. Although his last film appearance was in "Red State" in 2011, Mewes remains active in the entertainment industry. While he hasn't amassed a fortune or achieved A-list status, he's still a recognizable figure in the business.
2. A Promise Kept by Harvey Weinstein
Mewes experienced a devastating loss when his mother was diagnosed with HIV. Miramax chairman Harvey Weinstein, who hosted an AIDS benefit attended by Mewes and his friend Kevin Smith, learned of Mewes' mother's illness. Weinstein vowed to secure the best doctors in New York to treat her, and he kept that promise. Tragically, Mewes' mother passed away in 2000.
3. Mewes' Brush with the Law in 1999
In March 1999, Mewes was arrested in his home state of New Jersey, specifically in Keansburg. He pleaded guilty to possession of a dangerous controlled substance, which turned out to be heroin. Mewes was fined $1,000, sentenced to two years of probation, and ordered to attend substance abuse counseling classes and submit to random urine testing. Additionally, he was required to complete 200 hours of community service and had his driver's license suspended for six months. Despite his legal troubles involving drugs, those who know Mewes don't see him as the drug dealer he portrayed on screen.
4. Mewes' Family Life
Mewes has been married only once. He tied the knot with Jordan Monsanto in 2009, and the couple remains together. They have one child, a son named Logan Lee Mewes. Although the characters Mewes often played didn't seem like the type to settle down, the man who brought those characters to life has done just that.
5. The Toy Collector
Mewes is an avid toy collector. While he admits that he doesn't have a lot of money to devote to the hobby due to his family responsibilities, he does what he can. His favorite collectibles are Spawn toys, and he was particularly thrilled when the Dark Ages and Techno Spawn series were released.
Save
Tell us what's wrong with this post? How could we improve it? :)
Let us improve this post!