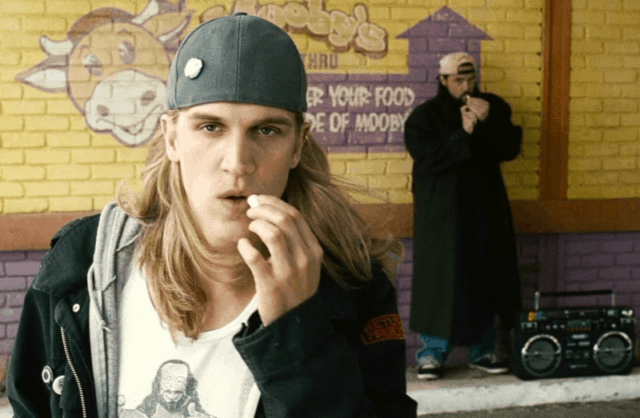 Jason Mewes is an American actor who is best known for his role as Jay in the 1996 movie "Jay and Silent Bob." He was the one that did the talking and some of the things that the weed smoking, foul mouthed character were not exactly what you would want young children to hear. The comedy was a bit hit among the younger generation at the time and is still remembered today. Jason, now 43 has gone on to do a lot more in the film industry. There are quite a few interesting things that fans don't really know about him, so here are five of them.
1. Mewes diversified his professional career in entertainment
After playing the part of Jay, Mewes starred in more films and television shows. Then he branched out and became a film producer as well as an internet radio show host. He's been busy since we last saw him on "Red State" in 2011, which was his last appearance in film so far. For those of you who were wondering, Jason Mewes is still active in the entertainment industry. He hasn't made a fortune, and he isn't listed among the rich and famous, but he's still around.
2. Harvey Weinstein kept a promise to Jason's mother
Mewes had a heartbreaking event happen in his life. His mother was diagnosed with HIV. The chairman of Miramax, Harvey Weinstein, hosted an AIDS benefit which was attended by Jason and his friend Kevin Smith. When Harvey learned of Jason's mother's illness, he promised that he would get the best doctors in New York to treat her. He kept the promise, but sadly, Mewes' mother passed away in 2000.
3. He was arrested in Spring 1999
Mewes was arrested in March of 1999 in Keansburg, New Jersey, which is his home state. He entered a guilty pleas to the charges of being in possession of a dangerous controlled substance which happened to be heroin. The counts fined hi $1,000, gave him two years probation, ordered substance abuse counseling classes and random urine testing. In addition to this, he was to perform two hundred community service hours and had his license to drive suspended for six months. Even though Mewes had a run-in with the law over drug use, the people who know him don't consider him to be a drug dealer as portrayed in film.
4. He has a family
Jason has only been married once in his life. He married Jordan Monsanto in 2009 and the couple are still together. they have on child together. Their son is Logan Lee Mewes. Although the characters that he most often portrayed did not seem like the marrying type, the man who brought the characters to life is.
5. Jason is a toy collector
He's really into collecting toys. He shared that he doesn't have a lot of money to commit to the hobby because he has a family to take care of, but he does what he can. His favorites are Spawn tows and he got really excited when they came out with the Dark Ages and Techno Spawn series.
Save