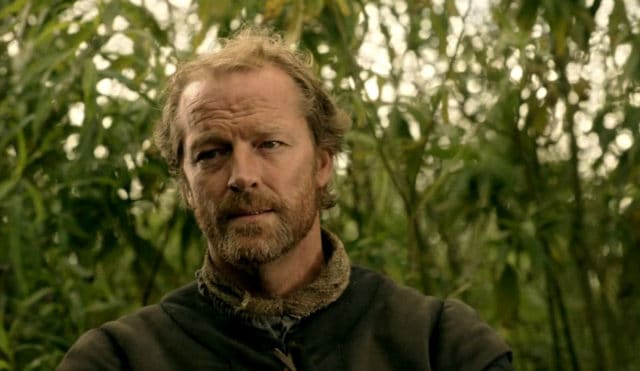 Actors dream of starring in high-profile shows like Game of Thrones. The vast majority of actors will spend their entire careers hoping to land a part in a series of such prestige. Some, however, are so talented that they appear in several of television's biggest productions. This is the case with the highly popular and accomplished Iain Glen.
Glen has had roles in Downton Abbey, Game of Thrones, and the Resident Evil films. He has had a long and distinguished career that seems to be picking up steam. Fans can look forward to seeing Glen in the upcoming season of Game of Thrones. Glen is so talented that fans sometimes forget to differentiate the actor from the role. For those who want to know more about who he is as a person, here are five of the most interesting facts about Iain Glen.
5. He is part of an acting family
While Glen's hard work is one of the main reasons for his success, it seems that genetics plays a role as well. His older brother, Hamish, is also heavily involved in the entertainment industry. Hamish is currently the artistic director for Belgrade Theater, and he was the artistic director for the Dundee Repertory Theater in years past.
As well, Glen's ex-wife is actress Susannah Harker. The two have one son together. He is currently married to another actress, Charlotte Emmerson, with whom he has two children.
4. Iain Glen Net Worth
Glen has acted professionally in film and television since the mid-1980s. Naturally, with such a long and successful career, he has accumulated an impressive personal wealth. Current estimates have Iain Glen's net worth to be around $4 million. With another season of Game of Thrones on the horizon, his net worth is sure to continue rising.
3. He did not always plan on acting
Glen was not one of the many actors who knew from childhood that he wanted to become an actor. In fact, he did not become involved in the art until he was already in university. Glen's fans have his friends to thank for his performances, as it was them who convinced Glen to join the drama society while at university. Clearly, he took to acting quickly and hasn't looked back since.
2. He is well trained
After he decided to pursue acting, Glen chose not to depend on his natural talent. Instead, he honed his skills with education and training. He studied at the prestigious Royal Academy of Dramatic Arts. There, he studied alongside another distinguished actor, Ralph Fiennes. Clearly, individuals like Glen who use education to enhance their natural gifts can accomplish incredible feats.
1. He is a gifted musician
Glen's fans likely know him to be one of the finest actors working today. However, acting is not his only gift. He is also a highly talented musician. He has acted in musicals in the past, most notably starring opposite Nicole Kidman in Martin Guerre. He can play both the guitar and the piano. While it may be hard to believe that one person can have such great talent, Glen has used his gifts and work ethic to forge a remarkable career.
Conclusion
Iain Glen is one of the most accomplished and capable actors on television today. His roles on Downton Abbey, Game of Thrones, and in Resident Evil films have garnered him significant praise and popularity. His personal life reveals that such great success is not simply the product of natural talent. Instead, Glen is clearly a hard working and dedicated individual who has devoted a great deal of time and effort to become the star he is today.
His personal life also reveals the fact that Glen is a performer through-and-through. He is just as talented a musician as he is an actor, and he has had performers in his family throughout his life. Clearly, with his gifts, work ethic, and relationships with other actors, Glen's success was merely a matter of time.
Tell us what's wrong with this post? How could we improve it? :)
Let us improve this post!