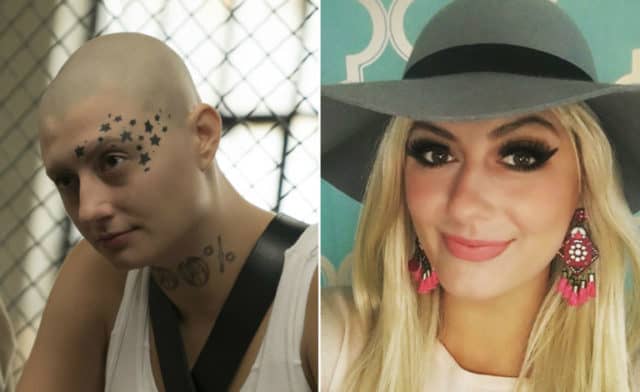 The new season of Orange is the New Black promises to deliver all the drama, hilarity, and emotion that previous seasons have been praised for. One of the best parts about this series is that viewers get to know each character intimately. One of the most shocking and intriguing characters on the show today is Skinhead Helen, portrayed by the talented Francesca Curran.
Curran has to transform her mannerisms, beliefs, and appearance in order to become Helen. Of course, Curran is a lovely and incredibly gifted individual in real life. However, her portrayal of this despicable character has been so powerful that it is easy to forget the difference between the actor and the character. To provide some perspective about who she is as a person, here are five interesting facts about Francesca Curran.
5. She has done commercials
Naturally, fans know Curran best for her portrayal of Skinhead Helen on Orange is the New Black. However, she has also done high profile work outside of television. One of her most notable jobs outside of the show has been a commercial for Warner Bra. Curran starred in the company's popular commercial "Girls Gone Comfortable," which depicts women who have forgotten to take off their bras because they are so comfortable.
4. She did intensive training for her role on Orange is the New Black
Of course, the vast majority of Curran's performance in the show is a complete deviation from reality, as she is a kind and thoughtful person, unlike her character. However, one part of her performance that is real is her ability to fight. Curran explained that she did a great deal of combat training to get ready for the season. From jumping off walls and kicking to flipping through the air, Curran proudly performs most of her own stunts.
3. She feels that Orange is the New Black reflects reality
While it is a fictional show written to entertain its thousands of fans, Orange is the New Black does an excellent job of bringing in the issues people face in real life. Curran has stated that with the great deal of controversy about race in American politics at the moment, it was the perfect time for her character to be featured. These important issues are handled beautifully by the writers and actors, as they are seamlessly built into the show.
2. She is well educated
Curran is obviously one of the most talented actors on television today. However, she has made the most of her natural talent by training under expert educators. Most notably, she studied at the prestigious school The American Musical and Dramatics Academy. There, she studied musical theater. While Orange is the New Black is not a musical, it is obvious that her years of hard work have resulted in amazing acting abilities.
1. It takes hours to transform Curran into Helen
Most of the time, Curran is the first one on set and the last to go home. This is because of the remarkable transformation that must take place each day before filming to turn her into Skinhead Helen.
The process can take hours and includes shaving her head and getting extensive makeup done. When finished, she is nearly unrecognizable. As she has the remarkable dedication to shave her head for the role, she usually wears wigs in her free time.
Final Thoughts
Skinhead Helen is one of the most frightening, offensive, and interesting characters on the show. Much of this is due to the incredible performance of Francesca Curran. Curran is a highly gifted actor who has trained to hone her talents and develop combat skills. In addition, she is one of the most committed actors in all of television, shaving her head each day before filming. Given her work on Orange is the New Black, fans will almost certainly be seeing much more of Curran in coming years.