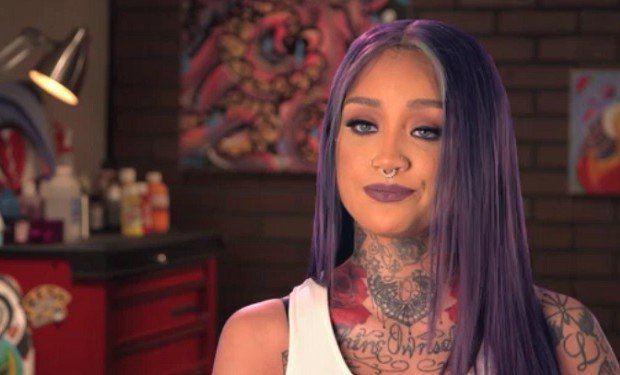 Reality shows are "all the rave" as they dominate television programming. With everything from Survivor to the Real Housewives franchise, reality television has people feining for more. One reality show that is still building steam and has many people hooked is Black Ink Crew, which is a show about tattoo artists with a Black theme. Well, the show is about to get a lot more publicity, as one of its stars, Donna Lombardi appeared in a sex tape with one of her co-stars. It seems that sex tapes are "all the rave" as well. If your ratings are falling or you feel the need to be more relevant, just release a sex tape.
Anyway, here are five facts about the reality television star to bring you up to speed on just who she is. You know, provide the proper context for that video you will eventually see.
1. The Timing of the Tape is Essential to Peace on the Show
The person who Donna appears in the tape with is Alex, a man who goes by the name, "The (A Certain Female Body Part) Slayer," which definitely rubbed owner, Melody, the wrong way. More importantly many of the shows fans are wondering when the tape was filmed, being that Donna is currently in a relationship with Mo during the current season. This could definitely get messy quick, or maybe we are already at that stage.
2. She is Still Wet Behind the Ears
According to the records, Donna was born on Sep. 20, 1992, which makes her 25-years-old. For a seasoned person like me who has quite the past, 25 is still very young, and Ms. Donna has definitely gotten off to a rapid start. It is not clear if her life as a tattoo artist is what has exposed her to the behavioral influences that drive decision-making or if she hit the scene as a rebel who desires to dance to the beat of her own drums. The question should be whether this will destroy her career or launch it into the stratosphere.
3. She Has Been On the Show Since 2015
She initially came on the show in 2015 as the apprentice for Ceasar Emanual. She has definitely added some flavor to the show and increased its appeal to the public. According to The Wrap, the show's Season 6 premiere landed has Viacom's highest-rated Wednesday night premiere ever. So, this is not just your regular reality television show, it has lasting appeal and people relate to the characters.
4. She is Family-Oriented
When you hear the surfacing of sex tapes, the last thing that you are thinking about is how family oriented the person in the tape is; however, there is plenty of evidence that reveals that Donna is very family oriented. She is constantly posting photos of nephews and other family members on social media. In fact, she keeps Instagram lit with photos of her and her family. She is definitely not some loner who is making bad decisions. She has family that is willing to stand behind her no matter what.
5. She is Heavily Involved in Charity
Another fact about Donna Lombardi is that despite the efforts of some media channels to paint her as shallow, she keeps revealing layers and layers of substance. As it turns out, she is a strong believer in giving back and she is constantly involved in some sort of charity. Donna even played a role in the Harvey relief efforts after Hurricane Harvey ripped through the Texas coast. She used her celebrity to collect donations and get them to the appropriate places.