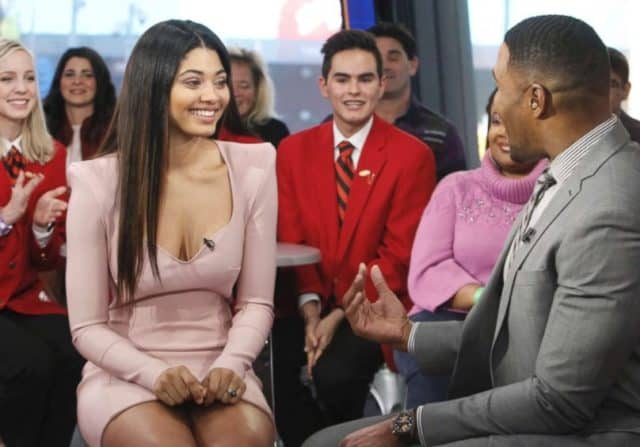 The Sports Illustrated Swimsuit Issue is world renowned, featuring some of the world's most poised and famous models gracing the cover. The current 2018 Sports Illustrated Swimsuit Issue cover model is that of Danielle Herrington, who is also the third African American model to be on the Swimsuit Edition's cover in its history. As we see her taking the cover this year, there are many things that we don't know about the model herself. That is why we are here; In this article, we are going to count down the top five things that you may not know about Danielle Herrington. With that said, let's get started.
Has Only Been An Active Model For Two Years
That's right. Danielle Herrington only just began her career in 2015, and her career is certainly beginning to take off in significant strides. She actually began her modeling career (with small gigs here and there) at the age of 13 years old.
Sketchy Background
Danielle Herrington was raised in Compton, California, and also spent some time living in part of Brooklyn's Bushwick neighborhood as well. During her childhood, she attended private schooling, which she attributes to keeping her out of bad neighborhood crowds during her adolescence. She also came from a hard working family, which helped to inspire her drive during her school years as well.
Schooling And Education
Herrington, as we mentioned before, attended a private school during her childhood, and realized her love for modeling at the young age of 8 years old. She eventually began attending John Casablanca's modeling school when she was around 10 or 11 years old, and also went on to major in psychology in college.
Modeling Debut
Danielle Herrington has only had a handful of huge modeling gigs and jobs during her career thus far. This includes features in GQ magazine, various jobs with Victoria's Secret, and even her first feature in the Swimsuit Issue in 2017. Her big debut, however, came when she walked in Phillip Plein's spring show of New York Fashion Week in 2017. Around that same time, she also booked her gig as the cover model for the 2018 Sports Illustrated Swimsuit Issue.
Details Of The 2018 Cover
Herrington shot the cover of the Sports Illustrated Swimsuit Issue in the Bahamas. As we mentioned previously, Danielle Herrington is also going down as the third African American woman to be featured on the Swimsuit Edition's cover in its history. The other two African American women that were featured previously were that of Tyra Banks on the 1997 issue, and Beyoncé on the 2007 issue.
Although her career is just beginning and is slowly on the rise around the world, it is clear to see that Danielle Herrington has quite a bit of potential in the industry. She is already making some history being the third African American woman to be featured on the Swimsuit Issue, and we know that things can only go up from here for the new and young model. We can't wait to watch and see how her career takes off as the years go on, and only time will tell what is next for Danielle Herrington.