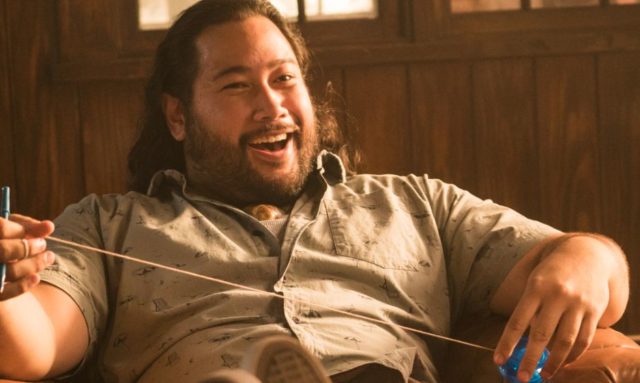 If you are a fan of "The Walking Dead," then you know that Cooper Andrew's character, Jerry, is a faithful steward to (the former) King Ezekiel, played by Khary Payton. The character played by Andrew brings a much-needed air of comic relief to a show that can be downright terrifying at times. It is due to this reason (among others) that Jerry quickly became a fan favorite. However, there are still many who wonder about his real, pre-zombie apocalypse life. When he isn't playing the right-hand, ax toting man at Ezekiel's side, Andrew's remains busy at conventions, cooking up delicious cobbler in his kitchen and participating in other activities. Learn more about Cooper Andrews here.
He has a Rather Unique Ancestry
He is a Samoan Jew. His bio that is published on "Treasure Valley Comic Con," it states that this "The Walking Dead" star is Samoan, on his father's side, and he is of Jewish-Hungarian ancestry, from his mother. Even though he is half-Samoan, he doesn't know much about this culture. He was raised Jewish by his mom, who is in the Peace Corps.
His Career Began with him Working as a Sound Guy
The love of filmmaking for Andrews began back in high school. He was a member of the drama club, and he made a number of short films with his friends. After he worked on several independent films, Andrews began to work as a boom operator for the television and movie industry. He did sound for a decade working up to 80 hours per week.
He Hands Out Cobbler at Conventions
Something many people don't know about Andrews is that he loves raspberries. His absolute favorite is the Raspberry Mountain Pie his mom makes, which is why is so fond of this treat. His character actually gave Carol, played by Melissa McBride, a peach cobbler in the previous season of "The Walking Dead," and then Andrews began to make and take homemade cobblers to give to fans when he made appearances at conventions.
Andrews Has a Background in Martial Arts
According to information from Fanfest, Cooper has been participating in martial arts since he was three years of age. This is when is mom began to train him using whiffle ball bats. As he began getting older, all the training he had participated in started to "click" and he continued fighting and training. This also gave him a unique calmness that helps his demeanor and attitude.
"The Walking Dead" isn't Cooper's First Appearance in an AMC Television Series
Prior to playing the character Jerry, on "The Walking Dead," Andrews appeared in another series aired on AMC — "Halt and Catch Fire." From the period of 2014 to 2016 he played the role of Yo-Yo Engberk, a computer programmer.
If you love "The Walking Dead," then you are pretty familiar with Jerry. Now, you know a bit more about the man behind this character, his life, hobbies and history. This may make watching the show even more enjoyable in the future.