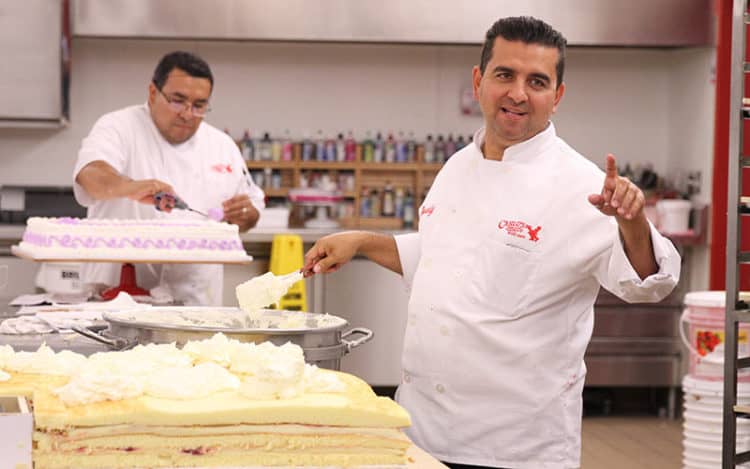 If you don't know who he is already chances are you've never watched Cake Boss or The Next Great Baker. Buddy Valastro Jr. was born and raised in New Jersey where he grew up and earned his education early on in baking. He's been a noted celebrity on the Food Channel and has been very instrumental in the designing and conceptualizing of thousands of cakes. His family business has been noted as one of the most successful on the east coast and still family-run and operated to this day.
5. He had a cameo in Bridesmaids
It wasn't anything big, just a shot of his hands while was making a cupcake that he got credited for. But any show that has to do with wedding cakes or anything of the like would surely benefit from Buddy's presence. He is after all one of the premier cake bakers in the country if not the world. So maybe down the line we'll see another appearance from him, this time with more than just his hands.
4. He started working at his family bakery at the age of 11
Buddy got his education in the bakery from a very young age, younger than is technically allowed to be working. There are however a number ways around this and it's very reasonable to assume that his parents didn't have him operating anything that he couldn't handle on his own. It makes sense though that if you own a family business that one day or another you're going to have to learn how to get in there and get things done.
3. His net worth is $10 million
There shouldn't really be any surprise at how much his net worth is, and furthermore there shouldn't be any surprise that it's not greater. With the amount of machinery, work space, and other costs that go into running a bakery it's easy to see where the money goes, and it's not always in labor costs. Those are still considerable however in just one bakery, let alone the others that are connected to Carlo's Bakery.
2. He has around 17 more bakeries that opened up after Cake Boss started to air
Buddy now has bakeries all over the USA and at least a few in areas such as Sau Paulo, Brazil. There 7 bakeries that he owns and runs just in the New Jersey area. Since the success of Cake Boss his stock has skyrocketed and people from all over the New Jersey area and beyond have been wanting to get to Carlo's Bakery to place orders and even just to say they've been there. Lines often run out the door at almost every bakery due to the popularity of the name.
1. He's a big believer of working with family
While it can't be said of every bakery, Buddy is a big believer in hiring family and friends of family so long as they're reliable. Many of those he's worked with on the show have been in his family for many years, which would include his brothers in law and his sisters. His wife has even helped out at the bakery on occasion, and he's even taught his children how to do a few things around the job.
Buddy Valastro is a good example of what it takes to become a hardworking success. He's learned from the ground up and never taken much of anything for granted in his life, which makes it all the easier to admire him for what he's done.
Save