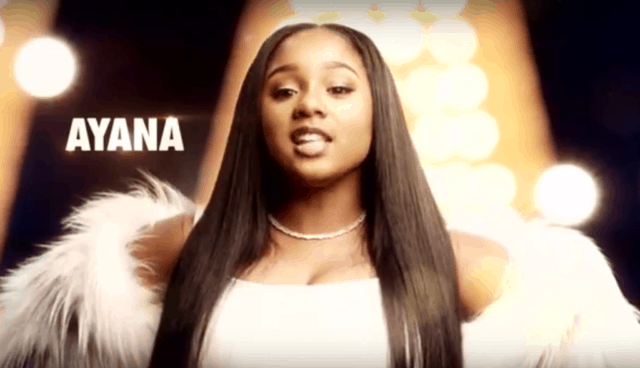 "Growing Up Hip Hop Atlanta" is WE TV's latest reality show that premiered in May. The series follows the lives of a group of young adults with ties to the Hip Hop world of the 1990's. The cast is led by BOW WOW, formerly "Lil Bow Wow" who rose to fame in the Hip Hop world with his first album in 2000 at the age of 13. He signed with Bad Boy Records, which is owned by Puff Daddy, in 2015. Other members of the cast include Shaniah Mouldin, daughter of Jermaine Dupri, Reginae Carter, daughter of Lil Wayne, Zonnique Pulliins, daughter of TI and Tiny, Brandon Barns, godson of Debra Antney, and Ayana Fite, daughter of DJ Hurricane.
Here are 5 things you didn't know about Ayana Fite.
She was born in Atlanta
Ayana Fite was born in Atlanta, Georgia on December 23, 1990. Her parents are Wendell and Dawn Fite. Her siblings are Jennifer, Janrell and Quron. Ayana graduated from Ola High School in Atlanta and pursued a career in retail. She was a manager for H & M clothing store.
Her dad is DJ Hurricane
Ayana's dad Wendell Fite is also known as DJ Hurricane. He was born in Dallas in 1965 and found his calling as a Hip Hip DJ in New York City. He met up with the popular band Run DMC who inspired him to become a Hip Hop DJ artist. While working as a bodyguard on tour with Run DMC, DJ Hurricane was introduced to the popular Hip Hop band members of the Beastie Boys. DJ Hurricane recorded with and joined the Beastie Boys on tour as their Hip Hop DJ. He went on to have a successful solo career as a DJ, rapper and producer. He has worked with other Hip Hop bands including Public Enemy and Kool G Gap Band. More recently, DJ Hurricane has toured with Faith Evans, the widow of "Notorious B.I.G." Wallace.
Her favorite childhood memory
Ayana says her favorite childhood memory was breaking her arm. She broker her arm while being swung around by a relative but no one believed her. When she went to the doctor and the arm was in fact fractured, her parents felt terrible. Her dad had a show with the Beastie Boys and took her to the show and everyone held her up. Ayana loved the attention.
She is working on her own clothing line
Despite having a good job in the clothing industry and being cast on "Growing Up Hip Hop Atlanta", Ayana Fite quit her job much to the dismay of her cast mates. However, Ayana is showing herself to be an entrepreneur. She also likes to be the boss. She is creating her own clothing line which we will see transpire on "Growing Up Hip Hop Atlanta". On the show we also see Ayana as Zonnique's stylist before her photo shoot.
Expect drama
Like some of the other members of the cast of "Growing Up Hip Hop Atlanta", Ayana Fite is a bit spoiled. She grew up touring with her dad and witnessed the extravagant lifestyles of some of the greatest artists. Her dad, DJ Hurricane, is said to be worth $40 million. He lavished his wife and children with material things and Ayana has never known anything else. On "Growing Up Hip Hop Atlanta" we can expect some spoiled daddy's girl drama from Ayana. She does what she wants.
Tell us what's wrong with this post? How could we improve it? :)
Let us improve this post!