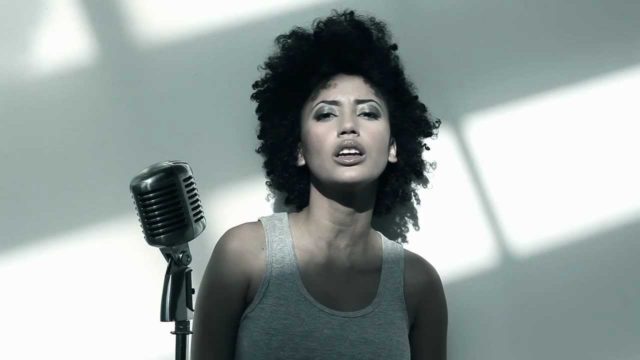 If you haven't heard of Andy Allo just yet don't feel too bad since she's still building a career and has yet to be noticed in enough to make her stand out among the A-listers. Don't let that fool you though, she's well on her way to doing bigger and better things as she continues to push forward in search of that ever-elusive career that so many celebrities try for and only handful ever achieve. So far she hasn't done too bad since she's appeared in a few features that should be able to get her some attention like Pitch Perfect 3 and The Hero.
She's working, she'll get there.
5. She started learning the piano at age 7.
It seems like a lot of celebrities have learned how to play an instrument at a young age or done something extraordinary when they're young doesn't it? In Andy's case though it makes more sense considering that she's been musically-inclined for a while and it was kind of obvious once she started taking to the lessons her mother gave her. Some people just find their calling early on.
4. She holds a dual citizenship in the USA and Cameroon.
This isn't allowable with all countries but it seems like the US and Cameroon don't mind. That's kind of cool since you can be bound by the laws of both countries and still enjoy the benefits of well. I wonder how well that works during certain situations when the laws of each land differ just a bit. It seems like it would be a give and take kind of existence where one set of laws might contradict another. Somehow I think Andy's got it figured out though.
3. She's primarily a singer/songwriter.
She might be stepping into acting a little more but she's got more experience in singing than anything at this point. It wouldn't be a bad thing if she decided to diversify, as many singers have done so over the years and been quite successful. It might take a little while but there's nothing to say that she can't since she's already done it and been accepted for the roles she's been given.
2. She released her first independent album in 2009.
In 2009 she released UnFresh, a collection of 12 original songs featuring at least one guest singer. She's had four albums released as of 2017 and while I don't know what kind of sales she enjoys I can say that releasing more than one album is kind of impressive. It says enough on its own to reveal that she's managed to create a big enough fan base that loves her music and wants to see her succeed.
1. In 2015 she collaborated with Prince.
That alone should be enough to put on a resume and impress people. She can say that she collaborated with a legend after all. His fame was still easily great enough at the time that she could bask in it and say that she'd walked with a giant in the industry. If not for Prince's untimely passing in 2016 it might have been that she could have worked with him a bit more.
She's got what it takes to succeed.