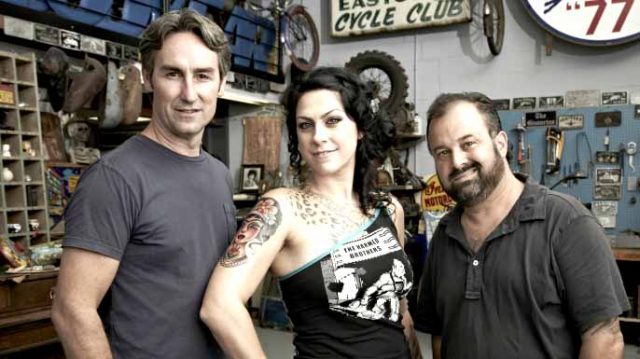 American Pickers, starring Mike Wolfe and Frank Fritz, is a show that revolves around finding hidden gems in piles of apparent 'junk'. The two pickers visit people's homes, houses, barns, sheds, or anywhere else they store their collections. The goal? Find any item they can flip for a profit — or want to add to their personal collections. The show has been on the History Channel since it's premier in 2010, with no signs of slowing down anytime soon.
The show is perfect for the history buff, curio enthusiast, or casual viewer with an interest in collectibles. In shows like this, the focus is always on the item. Where it came from, what it was used for, and many other essential details. The end result is an enthralling trip into the past through relics that still exist today.
Now in it's 18th season, American Pickers has been a reliable source of entertainment for quite some time. While you wait for the next episode, consider checking out these other shows about the rare item trade:
Pawn Stars
The Harrison family (Rick, Corey, and Richard Sr.) have been running the World Famous Gold and Silver Pawn Shop since it opened in 1989. The shop deals with many rarities, artifacts, and collectibles from a variety of backgrounds. In 2009, their show Pawn Stars debuted on the History Channel, quickly becoming one of the top-rated shows in America. This may not have quite the same flavor as American Pickers, but the guys over at Gold and Silver Pawn are experts in their trade. The basic formula of the show is as follows: a customer will bring in an item of some value that they wish to sell. A brief history of the item is given, followed by expert opinions and sometimes counterfeit analysis. Then, whoever is handling the sale will haggle for the best price with the customer. The Harrisons have seen a lot of rare items — antique firearms, signed vinyl, set pieces, and even million-dollar flame-breathing robots! It's definitely worth a watch. And with 15 seasons and counting, this is a show you will likely be able to count on for a while to come.
American Restoration
https://www.youtube.com/watch?v=CEJy-BLruFg
This show began as a spin-off of Pawn Stars, featuring one of Rick Harrison's friends, Rick Dale. Dale owns a shop called Rick's Restorations out in Las Vegas. His show, American Restoration, follows the journeys of a variety of historical items that are brought into the shop to be cleaned up, fixed, and returned to their former glory. The beauty of this show is its narrow focus on the item and restoration. Unlike Pawn Stars, the haggling isn't a huge part of the show. Instead, you see Dale charge the price he deserves for carrying out some beautiful restorations on old objects. In the most recent seasons, American Restoration has moved away from only showing the happenings at Rick's Restorations. Instead, multiple shops across the country are shown — lending even more variety and old relics to the show. American Restoration is a great show to watch if you have an interest in rare or historical items.
Storage Wars
https://www.youtube.com/watch?v=817uUd7p6xc
Storage Wars is a picking show with a twist. It features a group of people who buy old storage units at auction, hoping to find rare items within that they can flip for a profit. They only get a superficial look at what is inside the unit — making every purchase suspenseful. After they buy the unit, they must go through every item within and try to make a profit. Most of the participants have online storefronts for their finds, and a couple of them have physical locations as well. Sometimes, they find a lot of success; other times, the unit is full of worthless junk that they overpaid for. Some of the items found by members of the show include limited-edition Elvis Presley newspapers, a Weiss grand piano, and artwork by Frank Gutierrez. These led to five- and six-figure profits for the lucky buyer. Storage Wars has it all: cool items, intense auctions, and massive profits from the luck-of-the-draw!
Bargain Hunt
This show is fast-paced and exciting, plus it has a lot of information on cool antiques that you might not have known before watching. Bargain Hunt, now in it's 49th season, features two teams of amateur collectors competing to score the best deals at swap meets, trade fairs, and flea markets. Each team — the "Reds" and "Blues" respectively — is made up of two collectors. They are given a certain amount of money, and are tasked to find the most valuable items they can within one hour. These items are later sold at auction. Whichever team has the most profit wins — and they get to keep any money they have made. Bargain Hunt is a long-running show, and a solid choice for someone who also likes American Pickers. The race for the best items is intense, and the items themselves can be quite interesting. With so many seasons already filmed, this show isn't going anywhere anytime soon!
Antiques Roadshow
https://www.youtube.com/watch?v=makm6mKR9hw
This is the grand-daddy of them all. Antiques Roadshow has been on the air for nearly 40 consecutive years. This show focuses on appraisers determining the values of any items that the locals might bring to the Roadshow. While Antiques Roadshow is a little more cut-and-dry than some of the other shows on our list, you have to give it credit for spawning the item-trade genre. Plus, the information on the show is very in-depth and always accurate. The expert appraisers on Antiques Roadshow do a great job of teaching history and broadcasting images of the rarest items on Earth. The British version of the show is currently in its 39th season. However, the PBS version hosted by Mark L. Walberg is also very popular, and has been since its inception in 1997. Whichever version of the show you choose, you will love it if you love American Pickers.
These five shows are sure to satisfy your item-trading cravings. If you know of any more shows that are on the air today like American Pickers, be sure to let us know in the comments!
Tell us what's wrong with this post? How could we improve it? :)
Let us improve this post!