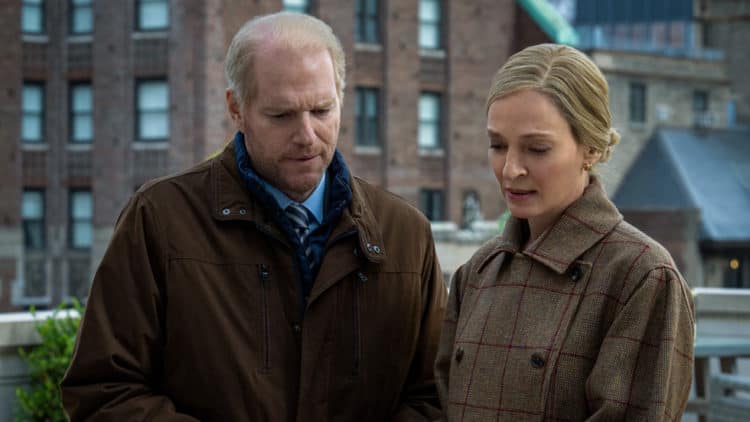 Apple TV's latest series, Suspicion, is a global thriller that begins with a kidnapping in New York City and leads to three seemingly unrelated suspects in London. There's plenty happening on all fronts, with each person arrested offering an entirely separate rabbit hole, not to mention the strained relationships the investigating agents have with each other and their own organizations. It's an enthralling experience, one with positive qualities reminiscent of other series that came before it. The elements of terrorism and espionage combine well with an uncertain political climate involving the United States and the United Kingdom, further complicating everything that's going on. The show also boasts a strong cast led by Kunal Nayyar, Georgina Campbell, Elizabeth Henstridge, Noah Emmerich, and Uma Thurman. New episodes premiere weekly on Fridays on Apple TV+. When you're done watching – or waiting for each new installment – here are five other shows to watch.
1. The Capture
This London-set series opens with an officer watching CCTV footage and being shocked by what she sees. Soon, a returning veteran (Callum Turner) is arrested for a crime he is sure he didn't commit but which authorities have video evidence of him doing. Holliday Grainger delivers a fantastic lead performance as Detective Inspector Rachel Carey, who follows the clues and uncovers a much greater conspiracy than she ever thought possible, one which may constitute a dangerous abuse of power or may keep its people safe. Its tagline, "Seeing is Deceiving," perfectly explains its intrigue and appeal. It's riveting from start to finish, and the second season, which was ordered back in June 2020, can't come soon enough. Stream season one on Peacock.
2. Tehran
This fast-paced Israeli show follows Tamar (Niv Sultan), a Mossad agent born in Iran who returns to Tehran on a daring undercover mission. Things don't go according to plan and her presence is very much known to an Iranian official (Shaun Toub) determined to capture her. The setting of the show ups the intensity at every turn, and Tamar's relationships to her home country also make her mission considerably more complicated, with the allies around her just as strained by their own experiences and complicated existences. Season two arrives in May and is poised to deliver another nonstop thrill ride. Stream season one on Apple TV+.
3. Collateral
This four-part British series begins with a pizza delivery man murdered in London and ends up involving a large web of criminals across the globe. This show makes particularly excellent use of its cast, led by Carey Mulligan, whose dry delivery of "Boca Raton" is among the show's darkly entertaining moments. Hayley Squires, John Simm, and Billie Piper are also among the ensemble. Though it runs only four hours, there are still plenty of threads explored in this interconnected drama, with numerous questions and intriguing moments along the way. Stream the entire series on Netflix.
4. Roadkill
Being in government can be shady even if you're not hiring people to be killed or engaging in extensive surveillance of citizens or enemies. Peter Laurence, played by Hugh Laurie, is a politician being charged with corruption, but he won't let anything he might have done wrong stand in the way of his success. This multifaceted drama looks at the lengths people will go to in order to remain in power, and how achieving that in supposed service of constituents can negate its inherent value. Journalism, law, and politics intersect superbly in this riveting four-episode drama. Stream the entire series on PBS or rent on Prime Video.
5. The State Within
Jason Isaacs has never been nicer – or more heroic – than as Mark Brydon, the British ambassador to the United States who has to work hard to avert war in the face of a vast conspiracy. Isaacs is well-matched by a terrific supporting cast, including Sharon Gless, Ben Daniels, Alex Jennings, and Lennie James. While other series have gotten lost in the complexity of vast networks of double agents working within government bodies, this show handled its many subplots and the way they came together very well. Though the show aired fifteen years ago, it's still relevant and well-paced. All seven episodes are available to rent on Prime Video.
Tell us what's wrong with this post? How could we improve it? :)
Let us improve this post!