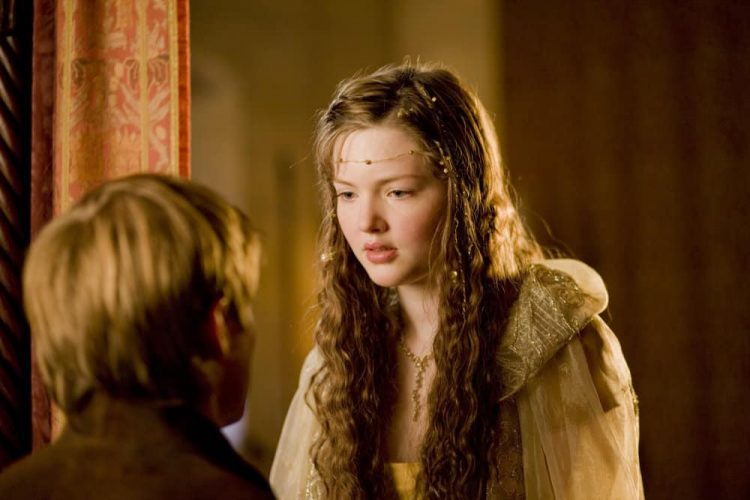 You might think of her as haughty and even a bit full of herself looking at this picture but the truth about Holliday Grainger is that she's still very much in awe of Hollywood and is very down to earth when it comes to who she really is. The satisfaction of being in her current position might be a better description of the picture above since life hasn't always been kind to her and her mother but it's been as good as they could make it and she's come out as a rising star as a result. You could say that she's been back and forth between supporting actress and a main character and you'd be right since she's held down both spots and made them work to her advantage and towards the betterment of whatever project she's been involved in. Her career is something that's kind of interesting when you figure out that as far as the long haul goes she really doesn't have many plans.
Here are a few things you might not have known about her.
10. She's had to juggle schoolwork and acting.
Holliday hasn't skimped on her education which is impressive since she's been acting and going to school at the same time and managing A's and B's the entire time it sounds like. Just going to school and maintaining such grades can be hard enough on its own, but being able to do that while acting is something not a lot of people can boast.
9. She was in the live action Cinderella.
She played the part of one of the wicked step-sisters, Anastasia, and she did it well since a lot of people would have likely laughed at the fact that the two sisters were in many ways kind of pathetic and quite dull, as per the story. But she played her part very well.
8. She was in Bonnie & Clyde.
Based on the real-life story of Bonnie and Clyde this two-part feature showed the rise of two of the most notorious criminals in US history and how they got away with something that other gangs had done throughout the years but eventually met a very bad end.
7. She was thrown out of one university.
When you're in high school it's a struggle to keep up with homework but a lot of schools will at least try to work with one's schedule. In college however they're there to get paid and teach based on who wants to show up. With her hectic schedule she was having to take too much time off and so the university kicked her out so to speak and she had to select another school that would work with her schedule.
6. She was raised by a single mother.
No one really has a monopoly on how hard it is to raise a child but single mothers, single parents in fact, do have it much harder than anyone else on an average basis. Some of them have support groups such as family and friends to help, but the truth is that without a stable partner in their lives they're still doing a lot of it on their own.
5. She plays a lot of troubled roles in films.
This seems to be a theme for her when she gets cast into a film or other project. Some folks find a niche and tend to stick with it for as long as they can until they need to change it up, but this seemed to take her by surprise after a while.
4. She would like to do more independent films.
One thing about independent films is that they're well enough away from the mainstream that the hype and the expectations aren't always there and it offers a lot more freedom to the filmmaker and the actors that allows them to experience a kind of freedom in the process that isn't hindered by the insane need to appease the audience or even cater to them in some cases.
It's not uncommon for many women to be taken with Fassbender since he is kind of a smooth character and seems to radiate confidence, charisma, and charm with each of his characters. What he's like in real life is something only those closest to him would know, but from a distance many women seem to love the man for his looks and his manner.
2. Her mother made sure she had access to many different activities.
Growing up her mother didn't have a lot of money but she made sure that Holliday was able to attend several different activities that kept her busy and from thinking about their home life and what was and wasn't there. That's a good mom to be honest, as she put her daughter first and didn't obsess about what they didn't have in their lives.
1. She honestly doesn't have much ambition to be a movie star.
It's not that she doesn't want to be a movie star, it's that she doesn't seem to be overly in love with the profession and therefore isn't so starry-eyed that she's mapping out each and every year of her life as she goes along. It almost seems as though she's just going with the flow as it carries her.
There are worse ways to live after all, and going with the flow seems quite acceptable much of the time.