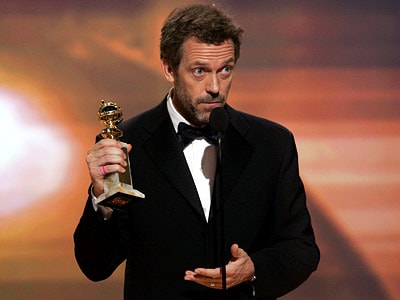 You all know him as Dr. Gregory House on the hit show House. What bothers me is that we really haven't seen too much of Hugh Laurie after the show's run ended in 2012. It felt like every single year that the show was on Laurie was a lock to win an award. Most people know by now that Hugh is an English fellow. And it still blows my mind seeing him in interviews because I could swear to God the guy was American based on how well he played House. He is hands down the best American accent actor from another country in history.
In any event, Laurie actually had a pretty good career in Britain prior to his success here in America. He was mostly comedic on television shows, truly can play the piano, and did some very silly commercials.
Here are 10 clips of Hugh Laurie before he was Gregory House
80's Polaroid Ad
Panama Commercial
Kellog's Crunchy Nut
Vauxhall Commercial
Beer Commercial
Old Interview on British Television
Hugh on Friends – Sod off!
Casting for House
The Sophisticated Song
Hey Jude