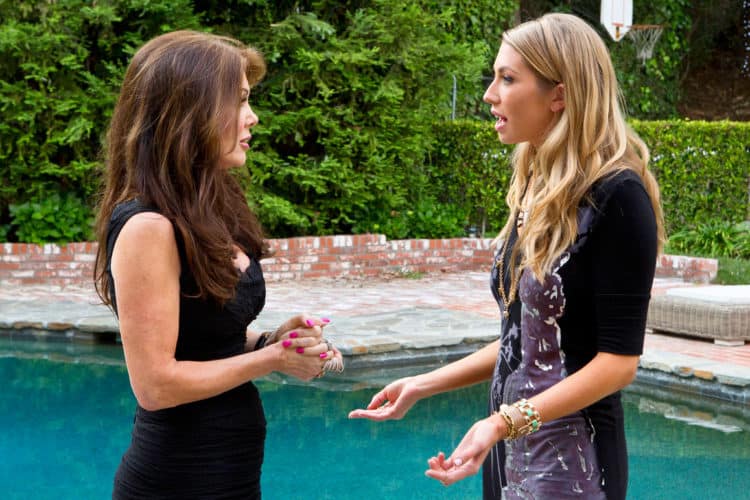 The Real Housewives television franchise has grown to be larger than life. Rich housewives from different parts of the East and West coasts have been given the opportunity to flaunt their wealth and lavish lifestyles over the years. Out of all the installments, the Real Housewives of Beverly Hills (RHOBH) still seems to reign superior when it comes to drama, cat fights, and controversial housewives. It has been more than a decade since RHOBH premiered yet fans of the series can't still can't seem to get enough of it. We witnessed the departure of a number of cast members through the years, which were quickly followed by new additions who continued to add more fuel to the already raging fire. It's no surprise the episodes were able to sustain explosive storylines for more than ten seasons already. The untimely exit of original RHOBH cast member, Lisa Vanderpump, was one of the most unexpected moments in the series. It shocked her cast members, and also caught a lot of viewers off guard. Vanderpump was such a vital part of the series, and we are still mending the heartbreak caused by her sudden departure. Here are five reasons why the star's exit is still a big loss for the RHOBH franchise:
5. She was as real as it gets
It was hard not to be intimidated by Vanderpump. Add in her posh British accent, luxurious mansions, high-end restaurants, and spoiled pooches. She was the epitome of class, and her presence definitely elevated the group of housewives. Her co-stars in the show seemed to seek for her approval and get on her good graces. Vanderpump was one of the most-loved housewives because of her sassy comebacks and unapologetic attitude. She spoke her mind in every situation, and was not afraid to prove a point. This was a breath of fresh air from the other housewives who were more into backbiting and stirring the pot. Vanderpump was also strategic in her alliances, and one step ahead in her decision making.
4. She was a loyal friend to the other housewives
During her stint on the show, a lot of the housewives avoided getting on Vanderpump's bad side. We have seen how she was a fiercely protective friend, but a dangerous enemy. She mastered the art to be subtly scheming, which made her extra hard to read and unpredictable in her actions. Vanderpump had her fair share of friendship fall-outs in the show. We witnessed her unique friendship with former housewife, Brandi Glanville end up badly, as well as her close friendship with Kyle Richards crash and burn, which also led to her decision to leave the show for good. There are two sides to every story, and it seems like Vanderpump has her way of getting the upper-hand.
3. She puts her influence to good use
Unlike the other housewives, Vanderpump was an expert multi-tasker. She found time to juggle reality television drama and her real-life charitable works. She was a philanthropist by heart, and was vocal in her efforts to be a fearless advocate for animal and LGBTQ+ rights. Vanderpump's love for animals translated to her establishing the Stop Yulin Forever foundation, as well as The Vanderpump Dog Center for rescue dogs. She is also consistent in her efforts to support the LGBTQ+ community by actively taking part and sponsoring the Los Angeles Pride parades.
2. She had one of the most stable marriages and family life in the series
Divorces are nothing new in the land of the rich housewives. We have seen numerous couples from all of the series installments go through nasty divorce proceedings. Seeing Vanderpump happily married to Ken Todd, while also maintaining close family ties with her kids, Pandora and Max, gave the show a sense of normalcy. Seeing the Vanderpumps lead this type of ideal life proved that happy endings were indeed possible in the superficial land of Beverly Hills. A lot of the issues that ensued in the show were usually shallow and unnecessary. Seeing another side of Vanderpump whenever she was at the comforts of her home, and with the loves of her life balanced out the noise and additional chatter.
1. She's a true #GirlBoss in many ways
Vanderpump has got a lot of things going under her sleeve. Apart from being a reality show star, she is also a proud entrepreneur with 36 restaurants, bars, and clubs in London and Los Angeles under her belt, as well as a wine label. She and her husband, Ken, built this empire from scratch, while still finding ways to expand their operations. Reality television also continues to flows through her blood, as she appears on Vanderpump Rules and Vanderpump Dogs. As the saying goes, when one door closes, another one opens. Vanderpump does not miss the opportunity to seize the day and grab the bull by the horns. Who says she needs to be in RHOBH to stay relevant?
Tell us what's wrong with this post? How could we improve it? :)
Let us improve this post!