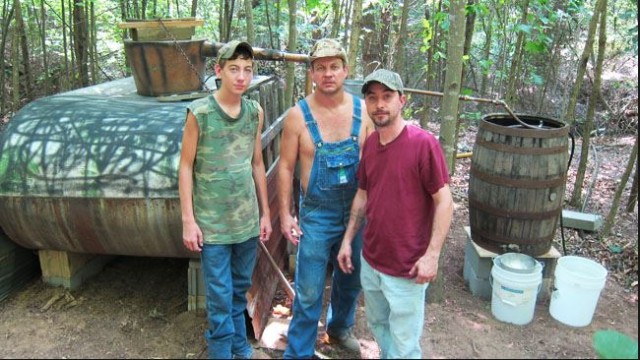 If you're a fan of the show "Moonshiners," then you're missing out on even more excitement if you're not currently following them on Twitter. The show first premiered in December of 2011 as a documentary series that shares the stories of people, mostly from Appalachian America, who make moonshine. It's not a legal practice, but they manage to get around the law. It's a dramatic show that is narrated by Jeremy Schwartz. Here are five reasons you should follow the "Moonshiners" Twitter account.
There are cool video clips of Josh's infamous accidents
The "Moonshiners" Twitter account is famous for featuring really interesting video clips, of course, related to moonshine. An example is the clip that shows Josh's trailer fully engulfed in flames. All his moonshine is going up in flames. He's shown in the background giving an emotional rant on the situation. You also get to find out what everyone else has to say about the video and there is some good background information that surfaces every now and then. For example, one follower commented that "Josh is married to bad luck."
New information about the cast
The "Moonshiners" Twitter page is loaded with information about Moonshiners. There are several that feature the guys talking about their craft. For them, it's a lifestyle as well as a tradition that they take great pride in carrying forth. The special videos that they post on the sight give you a real perspective about who these people are, why they make moonshine and even though it's illegal, why they will continue in carrying on the family traditions that have been maintained for generations.
See how it's done
There are multiple posts that show the distilling operation while it's in progress. You get to eye the equipment that is used along with a few of the techniques that they use to make moonshine. By listening to the conversations you may be able to pick up a tip or two about what it takes to make moonshine. You can also learn about what not to do by observing some of the costly mistakes that are made by the cast. We're talking about Josh in particular because of the entire cast, he seems to be the one that runs into the most trouble.
Learn about the business
In addition to picking up a few tips about how the moonshiners actually make the product, you can find out about the business. We've seen some good discussions about the difference in batches that can affect the price. Not all moonshine is created equally. The better quality stuff is worth more!
Keep up on what's going on with the cast
The "Moonshiners" Twitter account is loaded with all kinds of updates from the crew. It seems that there is always something new going on. Some of it is good, and some not so good. By following them on Twitter, you won't have to wonder. They're really good about making regular posts and letting followers know what is going on. This is just one more reason why you should follow the "Moonshiners" on their Twitter account.
Tell us what's wrong with this post? How could we improve it? :)
Let us improve this post!