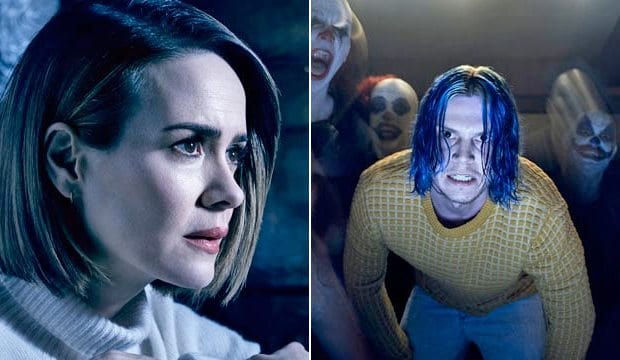 American Horror Story season seven, more frequently known as Cult, is every bit as intense as the previous six seasons have been. It definitely has a twist to it, as a direct result of the presidential election. Depending on where you stand on that issue, you might find this to be enough to make you start watching it or stop watching it, but it definitely makes things more interesting.
1. Connecting the Dots
This is a scene from the season seven finale but it's also much more than that. If you're paying attention, you'll notice that this is where a connection is made between season seven and every previous season that went before it. This is important, because there have essentially been two camps among fans, each with their own theory about the show. One side believed that each of the seasons was independent of each other, telling a completely different story. The other side believed that all of the seasons were indeed connected from day one, and here is the proof that they have been right all along.
2. Death is Everywhere
This is not from any particular episode, but rather a combination of all the death scenes that happened during season seven. If you're in the mood for something gory, all you need to do is watch this. That's especially true when you're seeing a fully grown man i a creepy clown costume going on a killing spree. At first, you think it's bad enough when he slashes the throat of another man but that's not enough for him. After all, the guy wasn't quite dead just yet. He then takes a very large knife and plunges it very hard right into the man's chest. The knife goes so deep you swear it's going to end up stuck in the ground the guy is laying on. When the clown pulled it out to go for a second round, you see very large quantities of blood spurt right out of his chest as his heart struggles to beat one last time before it finally gives out.
3. The Supermarket
You wouldn't normally think of the supermarket as a place to have a terrifying paranormal experience, at least not the type that Ally had in this scene. Nevertheless, a simple trip for a few groceries soon turned into a genuine experience of fear and she started to see first one and then many things that seemed only to be noticeable to her. Of course, she was the only person inside the store so it's hard to say if anyone else would have been screaming and running for their lives or not, but she certainly was. If you think that sounds scary, just wait till you see the end of the clip.
4. The Whole Season
This is a teaser clip that shows you small excerpts from the entire season. It's like watching a trailer for a movie. The first thing you're likely to notice is that this season centers around the election and Donald Trump winning the presidency. That alone should be enough to make you want to watch the show, especially when you consider the fact that his winning brings about all kinds of discord and terror in the nation. Is it art imitating life or life imitating art? You decide.
5. Ally Finds Her Strength
Up until this point, you've seen Ally being scared to death of clowns, blood and other things that only she seems to be seeing. She's always called on her partner Ivy and depended on her for help every time she got scared. Along the way, she started to figure out that there was problem with Ivy and that just maybe she couldn't be trusted. She confronts her about it, only to have Ivy tell her that she's nothing but a coward and that's all she ever will be. Here you see a complete turn of events as Ivy, who you've always thought of as strong and dependable, is found to be pure evil, but in a way, so is Ally. Not only does she poison Ivy, but as Ivy is dying she makes it very clear that she wants their son and she doesn't want to share him any more. She also really wants to watch Ivy die. The scariest thing is that seems to enjoy it quite a lot.