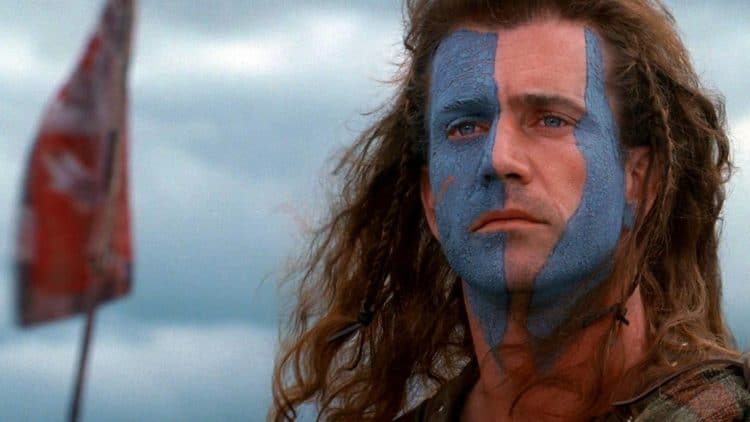 While most people know Mel Gibson as the protagonist Martin Riggs in the buddy cop franchise Lethal Weapon, he is also actually an acclaimed director, having worked on movies that were not only critically acclaimed, but would also rake in trophies from award shows. While his movies aren't without controversies, Mel Gibson has nevertheless been able to establish himself as a capable director. If you only know Gibson in front of the camera and aren't too familiar with movies he'd worked on as director, here are five essential movies that you should watch.
The Man Without A Face
The Man Without A Face, released in 1993, is Mel Gibson's directorial debut. The movie is based on a '70s novel of the same name, written by the author Isabelle Holland. Mel Gibson also starred in the movie, alongside Nick Stahl, Margaret Whitton, Fay Masterson, Gaby Hoffman, Geoffrey Lewis, Richard Masur, and many others. Considering that The Man Without A Face is Gibson's directorial debut, the movie received generous reviews, including one from notoriously harsh film critic Roger Ebert, who wrote that The Man Without A Face is evidence of Gibson's versatility. "Gibson's performance is interesting as a reminder of his versatility; not many actors can fit comfortably in both "Lethal Weapon" and "Hamlet" (1990), and here he finds just the right note for McLeod: Not a caricature, not a softy, not pathetic, but fiercely sure of what is right and wrong. There are times in the movie where McLeod could make things easy for himself simply by saying things that his pride and ethics will not let him say. He does not say them. That is admirable, but even more admirable is that Gibson, as director, doesn't give himself a soppy speech explaining why he doesn't say them. He lets us figure it out. That is the essence of the story and, we eventually realize, the essence of teaching, too."
Braveheart
One of Mel Gibson's most commercially successful films, Braveheart tells the story of Sir William Wallace, a Scottish knight and one of the leaders of the first Scottish war for independence. Aside from directing the film, Mel Gibson also starred in it, alongside other actors like Sophie Marceu, Angus Macfadyen, Patrick McGoohan, Catherine McCormack, and Brendan Gleeson. The movie raked in multiple awards and nominations, including 10 from the Academy Awards. The movie won Best Picture, Best Director for Me Gibson, and Best Cinematography. While it has been hit for its alleged historical inaccuracy, the movie nonetheless attracted praise from critics, with K. Austin Collins of Vanity Fair writing: "For these reasons, movies like Braveheart are eternally strange. Though Gibson's film isn't smart on this subject or even really aware of it, it has few modern rivals as an example of the ways a movie can rend history into compellingly simplistic myth. Such is the price of "universal themes," of which Braveheart is chock full and to which it undoubtedly owes its success. Empire magazine would eventually name Braveheart the worst best-picture winner ever. We can forgive them for what they didn't know in 2005, even if this was already an untrue sentiment in 2005."
The Passion Of The Christ
Perhaps Mel Gibson's most controversial movie to date, The Passion Of The Christ tells one of the most well-known story in human history: the final period of Jesus Christ's life. The movie is largely based on the gospels of Matthew, Mark, Luke, and John. The Passion Of The Christ is the first movie that Gibson directed that he didn't star in. The movie featured an ensembles cast of Jim Caviezel as Jesus Christ, Maia Morgenstern as the Virgin Mary, and Monica Bellucci as Mary Magdalene. While it attracted positive reviews from some critics, it was heavily accused of biblical inaccuracy as well as unflattering portrayals of Jewish people. A scathing review by Katha Pollitt on The Nation took note of what she thought were the movie's egregious sins: "Gibson has violated just about every precept of the conference's own 1988 "Criteria" for the portrayal of Jews in dramatizations of the Passion (no bloodthirsty Jews, no rabble, no use of Scripture that reinforces negative stereotypes of Jews, etc.). Even stranger is the enthusiasm for the film among Protestant evangelicals and fundamentalists, who seem not to realize how specifically Catholic Gibson's theology is."
Apocalypto
Two years after The Passion of the Christ, Mel Gibson would direct another movie, this time telling the story of pre-colonial Mesoamerica. The movie largely featured a cast of Native American and indigenous Mexican actors, like Rudy Youngblood, Raoul Trujillo, Mayra Serbulo, and Gerardo Taracena. Like Braveheart, Apocalypto was also criticized for historically inaccurate depictions, specifically of the type of human sacrifices that were more typical of Aztec cultures rather than of Mayans, the tribe that was dominantly featured in the movie. A review of the movie on The New York Times wrote: "Mr. Gibson's technical command has never been surer; for most of its 2-hour 18-minute running time, "Apocalypto," written by Mr. Gibson and Farhad Safinia, is a model of narrative economy, moving nimbly forward and telling its tale with clarity and force. It is, above all, a muscular and kinetic action movie, a drama of rescue and revenge with very little organic relation to its historical setting."
Hacksaw Ridge
Around the time of his last two movies, The Passion of the Christ and Apocalypto, Mel Gibson was blacklisted from Hollywood due to allegations of racism and domestic violence. His Hollywood shunning ended 10 years later, albeit unofficially when he directed Hacksaw Ridge, starring Andrew Garfield, Sam Worthington, and Luke Bracey. Hacksaw Ridge tells the real-life story of Desmon Doss, an army medic who refused to shoot a gun during his time in World War II on the grounds of his faith. He is historically called a conscientious objector. Ostracized during war, he would eventually be awarded a Medal of Honor for his service during the war, becoming the first and only conscientious objector to have been given the most prestigious military medal. Hacksaw Ridge won multiple awards at the Academy Awards, including Best Film Editing and Best Sound Mixing. The movie also raked in nominations for Best Actor for Andrew Garfield and Best Director for Mel Gibson.