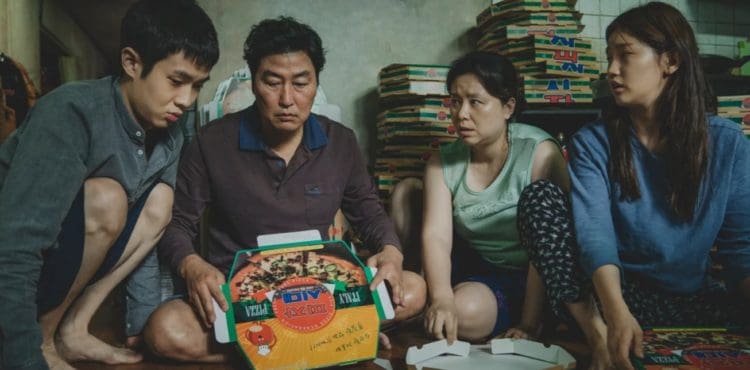 Bong Joon-ho created some of the highest-grossing films in South Korea. His film Parasite also made history at the 92nd Academy Awards Awards as the first non-English film to win Best Picture. He also bagged the Best Director and Best Original Screenplay awards for the said film. His films are usually characterized by social themes and black humor. In an article published by Far Out Magazine, Bong Joon-Ho explained how he approaches the tone of his films in an interview with the American Film Institute (AFI). "I often get that question during festivals or press interviews but it's always difficult to give you an answer because I'm never really conscious of it when I'm writing or shooting". In fact, as the director further adds, he only notices the constant tonal shifts of his film when it's finished, noting, "I'm surprised by it too. It just feels natural to me," the director explained. If you haven't watched any of the movies the acclaimed filmmaker has created, we encourage you to start. Here are five of Bong Joon-ho's films that are worth watching.
Parasite
The Oscar-winning film Parasite is a "family tragicomedy," as described by its creator Bong Joon-ho. The film follows the Kim family who live in a tiny basement apartment. They have some good luck when their eldest son Ki-woo (Choi Woo-shik), is hired as an English tutor for the daughter of the wealthy Park family. He then helps the rest of his family get a job in the house and pretend they are not related to each other. Her sister (Park So-dam) becomes an "art therapist" for the youngest son, his father (Song Kang-ho ) is hired as the driver, and his mother (Jang Hye-jin) becomes the housekeeper. The film starts off as a comedy then unfolds into something darker with unexpected twists.The film won Best Picture at the 92nd Academy Awards as well as the Palme d'Or (highest prize awarded) at the Cannes Film Festival. In an interview with Vulture, director Bong shared, "The true horror and fear of Parasite isn't just about how the present-day situation is bad but that it will only continue to get worse." New York Times also published a review of the film saying, "Bong has some ideas in "Parasite," but the movie's greatness isn't a matter of his apparent ethics or ethos — he's on the side of decency — but of how he delivers truths, often perversely and without an iota of self-serving cant. (He likes to get under your skin, not wag his finger.) He accents the rude comedy of the Kims' struggle with slyness and precision timing, encouraging your laughter." IndieWire also reviewed the film and wrote, "the best thing about "Parasite" is that it gives us permission to stop trying to sort his movies into any sort of pre-existing taxonomy — with "Parasite," Bong finally becomes a genre unto himself."
Snowpiercer
Bong Joon-ho's first English–language film is Snowpiercer, which was an adaptation of the French graphic novel called Le Transperceneige (Snowpiercer). The film is set in the dystopian future leaving the last surviving humans aboard the class-divided Snowpiercer train that travels around the globe. The train's poorest class surviving on black bars plan to take over the engine room to improve their quality of life. But to go there they must pass through privileged middle and upper classes and creates chaos in the train. The film stars Chris Evans, Song Kang-ho, John Hurt, Tilda Swinton, Jamie Bell, Octavia Spencer, Ewen Bremner, Ko Asung, Ed Harris. IndieWire published a review of the film saying, "Unapologetically long and messy, "Snowpiercer" offers an unhinged ride that's worth the investment for its mixture of batty personalities, consistently impressive visuals and mad swipes at heavy symbolism jam-packed together." The Guardian also reviewed the film, praising the film's aesthetic and themes. "But it's the strength of purpose that carries this film through, for all its wonderful design. Each carriage forward represents a new struggle for Evans' Curtis, with Song's "security expert" and gate-opener along for the ride with his wide-eyed daughter Yona (Go Ah-sung). Among their opponents are Vlad Ivanov (from 4 Months, 3 Weeks and 2 Days) playing a near-indestructible killer, and Swinton, who plays the elite passengers' mouthpiece as a cross between Deirdre Barlow and Margaret Thatcher – another in her gallery of extraordinary cameos. The way the allegory works out is not exactly subtle or unexpected, but is strangely moving, despite the gruesomeness that has gone before. All in all, a treat."
Okja
The action-adventure film Okja follows the story of Mija and her genetically modified "super pig" Okja in the mountains of South Korea. Okja is taken to New York by the agrichemical Mirando corporation led by its narcissistic CEO who plans to promote the company's goal of ending world hunger through Okja. Mija goes on a quest to rescue her companion from the meat industry. The main cast stars South Korean child actress Ahn Seo-hyun, South Korean actors Byun Hee-bong, Yoon Je-moon, and Choi Woo-shik, and Hollywood actors Tilda Swinton, Paul Dano, Steven Yeun, Lily Collins, Shirley Henderson, Daniel Henshall, Devon Bostick, Giancarlo Esposito, and Jake Gyllenhaal. Variety reviewed the film and wrote, "Shot in bright, cinematic widescreen by DP Darius Khondji, this Netflix-produced feature belongs on the big screen, where no one would mistake Okja for a real animal, and yet the CG is convincing enough to suspend disbelief. Bong has chosen to make Okja a larger-than-life animal, but she could just as easily be a talking pig (there's plenty of "Babe" DNA here already) — the key is that his audience be able to recognize her soul."
The Host
Bong Joon-ho's 2006 South Korean monster film The Host stars Bong's frequent collaborator Song Kang-ho, Byun Hee-bong, Park Hae-il, Bae Doona and Go Ah-sung. The film centers on a creature that emerges from Han River after chemicals were dumped previously. The creature wreaks havoc among the local residents and abducts the daughter of a vendor played by Song Kang-ho as he goes on a mission to save her daughter from the deadly creature. In a film review published by New York Times, they wrote, " Much like that Al Gore big-screen lecture, The Host" is a cautionary environmental tale about the domination of nature and the costs of human folly, and it may send chills up your spine. But only one will tickle your fancy and make you cry encore, not just uncle." IndieWire also wrote an article about the film, describing it as the "defining monster movie of the 21st Century." In the said article they wrote, "The special effects haven't aged particularly well, but the creature — which Bong and his team modeled after Steve Buscemi's feral performance in "Fargo" — is nevertheless a marvelous creation."
Memories of Murder
The South Korean crime thriller film Memories of Murder, co-written and directed by Bong Joon-ho, was loosely based on the true story of the Hwaseong serial murder, which was Korea's first confirmed case of serial murders. The murders took place between 1986 and 1991 in Hwaseong, Gyeonggi Province. The film once again stars Bong's ultimate film partner Song Kang-ho and Kim Sang-kyung as Detective Park and Detective Seo, who try to solve the case. The film received several awards and nominations which include Asian Film Award in the Tokyo International Film Festival, and Best Director and Best Screenplay in the Busan Film Critics Association (BCFA). The real Hwaseong series murder remained unsolved until the film came out, which sparked interest on the case and led to another investigation. The case was finally solved with the identification of the culprit in 2019.