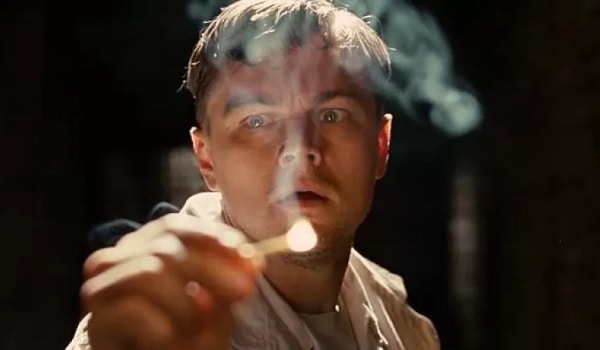 One thing that David Cox of The Guardian and many others might agree to is that Shutter Island does have a massive twist at the end that some folks might have suspected by no one ever really saw coming. The main thrill of the movie is in not knowing which way to turn and just who is going to turn out to be the main antagonist throughout the entire length of it. But by the time you get to the end you not only feel winded with anticipation, you tend to feel a bit irritated at the sudden and full stop that the movie offers as it shoves the truth of the matter in your face and dares you to deny it. There's no longer any doubt by the end who DiCaprio's character is since the evidence that continues to mount throughout the entire movie finally turns on its heel and points directly at the main character. The reversal is surprising no doubt, but it's hardly a huge revelation by the time it comes around.
If you liked this movie though you might like these listed below as well.
5. Memento
Shea Serrano of The Ringer states that this movie is just one giant circle and he's not lying. From the moment it starts you're playing catch-up to Leonard's life as the movie goes along the same premise over and over that he has a condition, he can't make new memories, and he's trying to piece together his life from the moment that this all happened. He's plagued by the death of his wife, which as it turns out wasn't the fault of the people that assaulted the two of them but was his since he simply couldn't remember giving her an insulin shot and just kept dosing her since he thought it was that time. Worse than this though is the cop that let it keep going.
4. Inception
DiCaprio seems to enjoy starring in movies that have massive twists hidden somewhere within the main point, and this is one movie that a lot of people are still willing to debate about when it comes to the biggest revelation of all. Ian Phillips of Business Insider is one such individual that has actually spoken on why Christopher Nolan won't go into any detail about how his films end any longer since this one inspired a great amount of debate. At the end, the top that Cobb sets to spinning seems to keep going, indicating that he's still in the dream world, but if you ask a lot of people some of them might actually say that the top was about to topple over.
3. One Flew Over the Cuckoo's Nest
Not many people actually want to get sent to mental asylum but when it appears to be the only choice it looks better than other options. However, once Nicholson's character gets inside he figures out that things aren't quite as easy as he thought they might be. In true Nicholson fashion though he goes about breaking the rules and thereby upsetting the natural order of the asylum. Unfortunately there's not really a happy ending as the twist at the end is that he does end up getting lobotomized, though he does make a difference during his time in the institution. It also introduced a rather classic villain.
2. A Cure for Wellness
Some movies seem a little too smart for their own good and are said to be horrible as this one didn't garner a lot of great reviews but does seem to have enough promise to be something, if it wasn't trying so hard. The idea of a baron that was supposedly dead and gone but is instead still alive and horribly burned and running a 'spa' that is in truth a horrific experiment to maintain his longevity is an idea that has some merit but somehow becomes a little to muddled as the movie continues onward. If you can get into the story and weather the more disturbing aspects then it's actually kind of interesting.
1. The Silence of the Lambs
As terrifying as this movie is there's really no hidden secret behind anything that's being done as everything is about as upfront as you can get. In fact the only real shocker comes when Hannibal sits up in the ambulance and peels his stolen face off before making his escape. It's kind of amusing really that Buffalo Bill became less of an issue in the movie since everyone kind of locked onto Lecter after the first "Hello Clarice" left his lips. Anthony Hopkins definitely stole this movie and managed to outshine everyone, as Ted Levine and even Jodie Foster play second fiddle to him in the history books for this one.
Shutter Island was a decent movie, so it's fair to say that if you liked it you might enjoy those on this list.