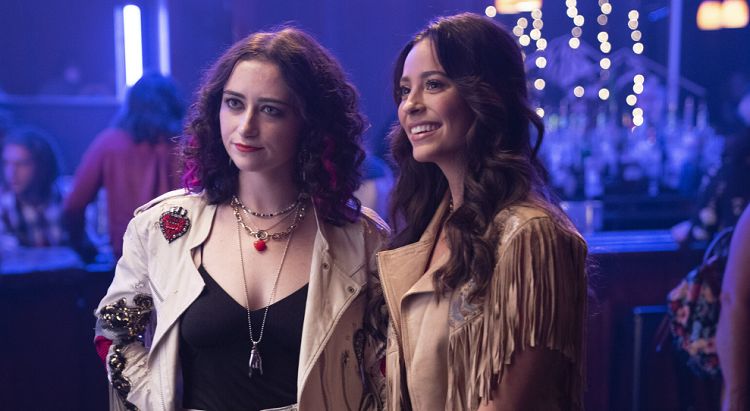 Torn Hearts is a new horror movie from Brea Grant that tells the story of a country music duo who goes to extreme lengths to meet their idol. Alexxis Lemire and Abby Quinn play the pair of aspiring singers, and their journey takes a dark turn when they find themselves in a private mansion full of terrors. With Katey Sagal also starring, as their idol. Torn Hearts is a suspenseful tale that will leave audiences guessing until the very end. Grant's direction and the performances by the leads make for a truly unsettling experience, one that will stay with viewers long after the credits have rolled. In a review by Common Sense Media, they praised the lead performances and wrote, "In a genre not exactly known for stellar (or even competent) acting or for women having roles that go very far beyond hooking up with their boyfriend before screaming their way into a bloody and untimely death, this movie is refreshing. It would be borderline camp without these deeper messages, but, overall, Torn Hearts is as thoughtful as it is creepy." Voices From the Balcony also wrote a review of the film describing it as "a tense and at times emotionally bruising story that bursts into violence in the last act. They also praised the film for incorporating good music despite the horror genre saying, "But even then has time for a wonderful bit of singing, and some fitting lyrics." If you like Torn Hearts, here are five movies we recommend watching. Some of the movies fall under a similar genre while others involve similar themes about fame and music.
No Exit
No Exit is a 2017 American mystery thriller film directed by Damien Power from a screenplay by Andrew Barrer and Gabriel Ferrari, based on the novel of the same name by Taylor Adams. It was released on February 25, 2022, on Hulu by 20th Century Studios and stars Havana Rose Liu as a young woman who becomes trapped in a rest stop with mysterious strangers. Danny Ramirez, David Rysdahl, Dale Dickey, Dennis Haysbert, and Mila Harris also star in the film. As the four strangers try to figure out what is going on, they realize that they may be caught in a trap from which there is no escape. Just like Torn Hearts which narrates terror through the duo's experience in the mansion, No Exit is a suspenseful film that will keep audiences guessing until the very end. In a review by Forbes, they described the film as a "remarkably sleek thriller that excels in its simplicity." The Review Geek also published a review of the film saying, "No Exit is a decent little thriller. It's not a particularly original or deep film, but it does effectively build tension and does so with a tight-knit ensemble and a simple but engaging story."
The Runaways
While Torn Hearts feature country music and the duo's aspiration to make it big, the 2010 biographical drama film The Runaways follows the 1970s rock band of the same name. The film focuses on the band's rise to fame and eventual break-up, with particular emphasis on the relationship between lead singer Cherie Currie and guitarist Joan Jett. Based on the book Neon Angel: A Memoir of a Runaway by Cherie Currie, the film stars Dakota Fanning as Currie, Kristen Stewart as Jett, and Michael Shannon as record producer Kim Fowley. The Runaways was directed by Floria Sigismondi and released to critical acclaim, with many praising the performances of Fanning and Stewart. It grossed over $4 million at the box office and was nominated for several awards, including a Golden Globe for Fanning's performance. The New York Times published a review of the film and wrote, "'The Runaways' is the rare movie to address the female rock experience."
Knock Knock
Knock Knock is a 2015 American thriller film directed by Eli Roth and written by Guillermo Amoedo and Nicolás López. The film stars Keanu Reeves, Lorenza Izzo and Ana de Armas. The plot follows a married man who is seduced by two young women after they break into his house. The film is similar to Torn Hearts with the roles being reversed in some way. The film was released on June 26, 2015, by Lionsgate. Knock Knock received negative reviews from critics but was a financial success, grossing $32 million against a $6 million budget. Empire described the film as "an increasingly terrifying thrillride." and described the film further by comparing it to other films saying "If 50 Shades Of Grey opened the door to the return of the sexploitation movie, Eli Roth's latest thriller is more Fatal Attraction than E. L. James' 9 1/2 Weeks-style take."
Studio 666
Also featuring some gore and music at the same time is the 2018 American rock musical horror comedy Studio 666 directed by BJ McDonnell and written by Jeff Buhler and Rebecca Hughes, based on a story from Dave Grohl. Grohl stars, alongside his Foo Fighters bandmates Taylor Hawkins (in his final film appearance), Nate Mendel, Pat Smear, Chris Shiflett, and Rami Jaffee. Whitney Cummings, Leslie Grossman, Will Forte, Jenna Ortega, and Jeff Garlin also appear in the film in supporting roles.The movie Studio 666 is about the rock band Foo Fighters moving into an Encino mansion to record their 10th album. The mansion is steeped in rock 'n' roll history, and the band members soon realize that they are not alone in the house. With a host of supernatural forces at work, the band must fight for their lives as they try to finish the album. The Guardian published a review of the film inviting Foo Fighters fans to watch the movie and wrote, "A must for fans of the Foo Fighters, particularly fans who don't mind seeing members of the band chainsawed in half, Studio 666 is an enjoyably schlocky comedy-horror. Roger Ebert.com also wrote a review of the film saying, "There's a great spirit of "why the hell not?" that runs throughout "Studio 666," both in its filmmaking, and in its pitch for the viewer to just go along with all of it."
Fan Girl
Just like Torn Hearts which focuses on a duo meeting their idol only to discover something they did not expect, the 2020 Philippine coming-of-age film Fan Girl follows the story of a high school student who is obsessed with her favorite celebrity. When she finally gets the chance to meet him, she realizes that he is not the perfect man she thought he was. The film stars Charlie Dizon and Paulo Avelino and is written and directed by Antoinette Jadaone. The film won major awards in Philippine's 2020 Metro Manila Film Festival Awards Night including Best Picture, Best Actor (Paulo Avelino) and Best Actress (Charlie Dizon), and Best Director (Antoinette Jadaone). It was also the sole Filipino film selected for the main competition of the 24th Tallinn Black Nights Film Festival held in Estonia. In a review published in The Hollywood Reporter, they gave a special mention to the director and praised the film's storyline saying "The rawness with which the story develops and its far from happy conclusions stand out in the career of Jadaone, who is one of the top romance film directors in the Philippines (Alone/Together, Never Not Love You). Here her view of reality may be too adult and graphic for her regular audiences, but it's a film that could be well appreciated on the international festival circuit."
Tell us what's wrong with this post? How could we improve it? :)
Let us improve this post!