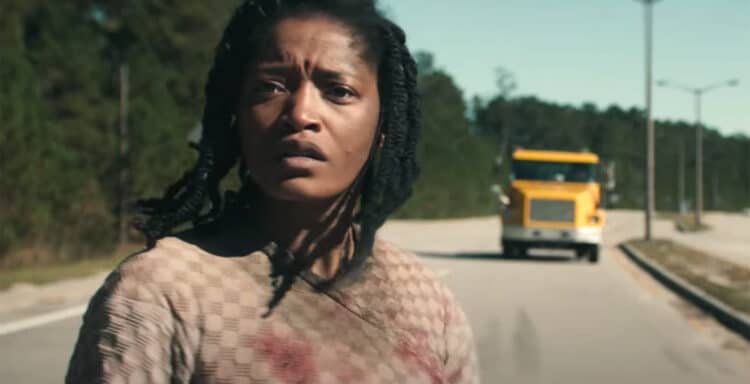 The American crime thriller film Alice, written and directed by Krystin Ver Linden in her directorial debut, premiered last month and stars Keke Palmer, Jonny Lee Miller, Common, Gaius Charles, and Alicia Witt, who narrates a story that is said to be based on true events. The film follows a woman enslaved at a 19th-century plantation in Georgia who manages to escape and discovers that it's 1973. With the help of a truck driver who guides her to settle in with the current time, she decides to go back to the plantation for revenge. The film has received mixed reviews but has good elements to offer as well as a great performance from Palmer. In a review published by Variety they wrote, "Still, there's much to admire about Ver Linden's attention-grabbing debut. (In interviews, she's called Quentin Tarantino her "mentor," and that's evident in the film's nods to "Django Unchained" and "Jackie Brown.") While her big ending is calculated for easy applause, it's the small details that sell you on Ver Linden's filmmaking talent." If you are looking for similar films that revolve around themes of empowerment and revenge, here are five movies we recommend after you're done watching Alice.
Harriet
If we're talking about empowerment and freedom fighters, there's no better film to watch than the 2019 biographical film Harriet directed by Kasi Lemmons. It stars Cynthia Erivo, Leslie Odom Jr., Joe Alwyn, and Janelle Monáe. The film's plot centers on freedom fighter Harriet Tubman who escapes slavery and sets on a mission to free hundreds of slaves through safe houses known as the Underground Railroad. The film received generally positive reviews from critics and gave special praise to Erivo's performance as Harriet. The film received several accolades including nominations for Best Actress (Cynthia Erivo) at the Academy Awards, Golden Globes, and Critics' Choice Awards. The film's song, "Stand Up," also received an Oscar, Grammy, and Golden Globe nomination. The Guardian praised the film in their review and wrote, "Though the film is about the atrocity of slavery, Lemmons and co-writer Gregory Allen Howard (Remember the Titans) focus on liberation and solidarity, rather than amplifying pain, trauma, and humiliation. So often, historical films are stale and mired in misery, but Harriet has a rare buoyancy."
Django Unchained
Another film worth watching that tackles themes about slavery is the 2012 American revisionist Western film Django Unchained, written and directed by Quentin Tarantino, starring Jamie Foxx, Christoph Waltz, Leonardo DiCaprio, Kerry Washington, and Samuel L. Jackson, with Walton Goggins, Dennis Christopher, James Remar, Michael Parks, and Don Johnson in supporting roles. The film is set in the Old West and follows a black slave named Django who attempts to free his wife from enslavement on a plantation with the help of a German bounty hunter named Dr. King Schultz. The film received critical acclaim, especially for Waltz's performance and Tarantino's direction and screenplay. Waltz won several awards for his performance including Best Supporting Actor at the Academy Awards, Golden Globes, and BAFTAs while Tarantino won an Academy Award, a Golden Globe, and a BAFTA for Best in Screenplay. In a review by New York Times, they described the film as "crazily entertaining, brazenly irresponsible and also ethically serious in a way that is entirely consistent with its playfulness." In the same article, they compared the film to the historical drama film Lincoln and wrote, "So maybe it's not so different from "Lincoln," after all. And if "Django Unchained" is not better, it is arguably more radical, both as cinema and as (fanciful) history. A double feature might be just the thing, if you have five and a half hours to spare. By any means necessary!"
Elle
The 2016 French thriller film Elle directed by Paul Verhoeven and written by David Birke, also features a strong heroine who seeks revenge like Alice. The film is based on the novel Oh… by Philippe Djian. The film stars Isabelle Huppert as Michele, a CEO of a video game company who gets assaulted in her home by a masked perpetrator. After the assault she finds herself receiving messages from whom she believes is the perpetrator and she sets out to track him down. The film received generally positive reviews and won several awards including the Golden Globe Award for Best Foreign Language Film and Critics' Choice Movie Award for Best Foreign Language Film. It also received eleven nominations and won Best Film at the 42nd César Awards in France. Huppert's performance ulcer received critical acclaim and was nominated for the Academy Award for Best Actress, and won several Best Actress awards, including the Golden Globe Award, Gotham Independent Film Award, and the Independent Spirit Award. The Guardian praised Huppert in their film review saying. "it's a jaw-dropping showcase for Oscar nominee Isabelle Huppert, cinema's most fearless screen presence, who describes the film as a "human comedy" about "the empowerment of a woman" with a "post-feminist" heroine."
True Grit
True Grit is a 2010 American Western film directed, written, produced, and edited by the Coen brothers which follows the story of a young farm girl named Mattie Ross who asks help from a U.S. marshall to track down the person who killed his father. They embark on a journey together with a Texas Ranger and the three face a dangerous adventure towards justice. The film stars Jeff Bridges, Hailee Steinfeld, Matt Damon, Josh Brolin, and Barry Pepper. The film received critical acclaim and was nominated for ten Academy Awards including Best Picture, Best Director, Best Adapted Screenplay, Best Actor in a Leading Role (Bridges), Best Actress in a Supporting Role (Steinfeld), Best Art Direction, Best Cinematography, Best Costume Design, Best Sound Mixing, and Best Sound Editing. The Hollywood Reporter published a review of the film and wrote, " As always with the Coens, the craft aspects are outstanding, led by Roger Deakins' superior cinematography, Jess Gonchor's detailed production design, Mary Zophres' textured costume designs and Carter Burwell's often source-derived score." They also gave special praise to Steinfeld's performance saying, "Dark haired and clear-eyed, Steinfeld convincingly conveys the character's refusal to be deterred, without a trace of gamine-like coyness or girlish cuteness. Perhaps Frances McDormand's performance in "Fargo" represented an implicit model."
Revenge
Just like Alice, the 2017 French action thriller film Revenge written and directed by Coralie Fargeat has a plot that centers on a woman who seeks vengeance. The film stars Matilda Lutz, Kevin Janssens, Vincent Colombe, and Guillaume Bouchède. It follows a young woman named Jen who gets assaulted by her boyfriend's friends while on a romantic getaway. Left for dead by her perpetrators, she survives and seeks revenge. The film involves bloody revenge and keeps the tension throughout the film. Empire published a review of the film and wrote, "Even if you think you know where it's going as its builds to a near-wordless finale (and you might be right), the moments of character detail are beautifully judged, and the gore surprisingly well splashed."
Tell us what's wrong with this post? How could we improve it? :)
Let us improve this post!